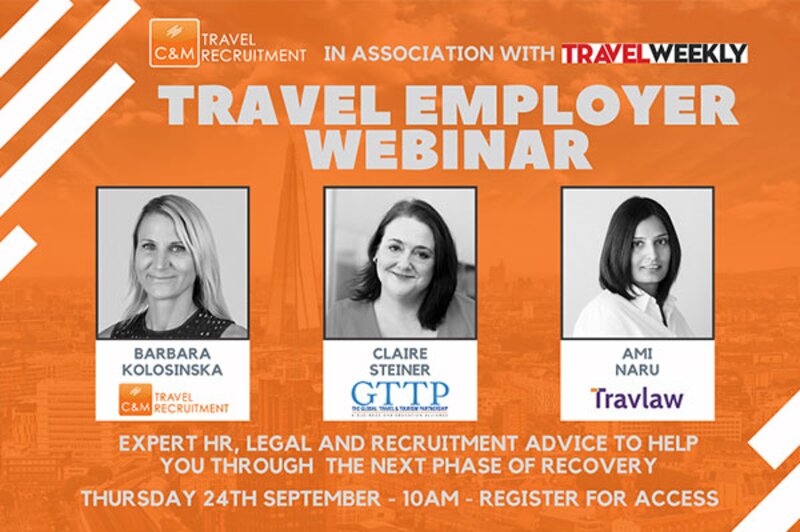 Advice webinar for sector professionals to be held by C&M Travel Recruitment
Second virtual event is being organised in conjunction with Travel Weekly
C&M Travel Recruitment is to host its second webinar featuring HR, legal and recruitment advice for travel companies.
It follows the success of its initial live webinar in June which gave advice to staff who had been made redundant or furloughed as a result of the Covid-19 pandemic.
Held in association with Travel Weekly, the second event on  September 24, will cover the next stages of the industry's recovery from the impact of Covid-19; how to prepare for 'unpredictable' events; an overview of the different sectors; and how to promote the right employer branding during a pandemic.
It will also cover legal issues regarding working from home and increased flexibility; the importance of keeping staff teams motivated; and the options regarding redundancy and voluntary leave.
C&M also plans to give details of a new product it is launching to help affected staff in the industry.
The webinar will be hosted by C&M Travel Recruitment director Barbara Kolosinska with experts Claire Steiner, an HR and talent professional, and Ami Naru, a partner of law firm Travlaw. Attendees will be able to post their own questions during the event.
Kolosinska said: "After the success of our candidate webinar earlier in the summer, we're excited to now focus on clients by offering a wealth of guidance and support to help them through the next stages of the pandemic.
"The pace of change affecting our industry at the moment means that many companies are having to deal with HR, legal and staffing issues that are completely new to them so we have put together this webinar to support all travel companies at this difficult time and allow them to gain advice and post questions to a panel of experts."
The event is open to all industry professionals. To register click here.