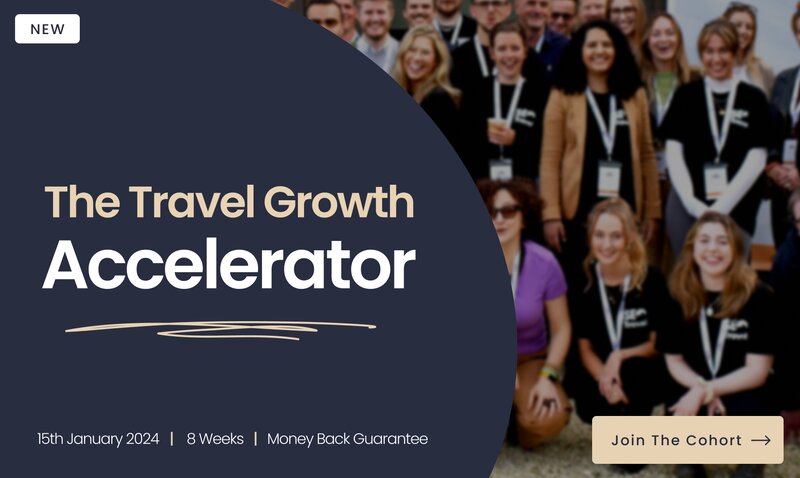 New travel accelerator launched to support SMEs with marketing and growth
The intensive 8-week course will select 10 companies to "fast-track" its growth
A new accelerator will be launched in the travel industry to bring together and support small and medium-sized businesses, by offering impactful solutions to travel marketing problems.
The initiative is being launched by digital travel marketing agency SEO Travel, which specialises in marketing and growth for SMEs.
Starting in January 2024, the intensive 8-week course is designed to "fast-track" the growth of the 10 travel businesses selected as the exclusive cohort.
The Travel Growth Accelerator will cover a number of marketing specialisms including SEO, link building, content writing, public relations, and email marketing.
The cohort will also have access to ongoing support in a dedicated group, mentorship from experts in the industry, actionable templates and processes, and lifetime access to the course content.
The accelerator is open to any type of travel business, located anywhere in the world, and the application window is open now.
Tom McLoughlin, Founder of SEO Travel, said: "Over the years, we've had many conversations with small travel businesses that are keen to access the best marketing skills out there but don't have the budget available to invest in an ongoing retainer.
"We've listened to those requests and worked hard to create something that gives these people access to marketing information from experts in the field but at a price point that is much more accessible.
"It's exciting to be in a position where we can support and help scale different travel businesses from around the world and help take them to the next level. We are also really looking forward to learning from the travel businesses too, and we believe that this shared experience will be invaluable."
The Travel Growth Accelerator will require just a one-off investment of £1,000 and SEO Travel is even offering a money-back within 30 days guarantee with "no questions asked".
The eight-week course will be broken down into eight video sessions, allowing people to view these at a time convenient to them, and a weekly Q&A session with a marketing expert.
The cohort will leave with an ongoing marketing plan, tactics to improve conversion rates, the ability to measure the success of marketing, and "valuable relationships" with others in the industry.
Through the initiative, the company aims to build a "community of sustainable and successful travel businesses" that will have a "lasting" impact on the industry.
Sustainability and learning are said to at the heart of SEO Travel, which is why the company has said 100% of its profits will go to educational charities.
The application window is open now until December 15th 2023. A judging panel from SEO Travel will select participating companies to join the programme starting in January 2024.