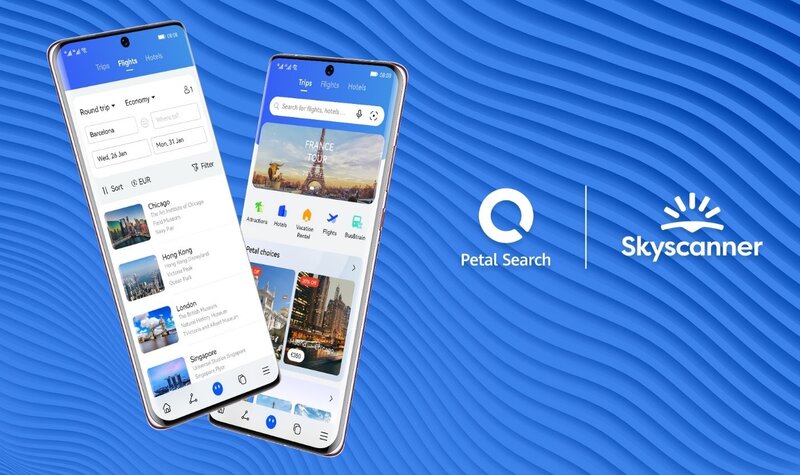 Skyscanner integrates flights API with Huawei Petal Search and Maps
Collaboration between leading metasearch site and Chinese handset manufacturer is going live initially in Europe before being rolled out globally
Skyscanner has integrated its search API with Chinese mobile phone developer Huawei so users can search for and compare flights in its Petal Search and Petal Maps apps.
The collaboration is going live initially in Europe before being rolled out globally, offering same content, coverage, and pricing as native Skyscanner users.
The leading meta brand's Flight Search API provides content from over 1,000 global suppliers.
Petal Search uses latest Huawei technology to provide users with "cognitive search" capabilities to ensure results are high-quality and relevant to handset users' day-to-day needs.
Petal Search's travel channel provides recommendations and inspiration to travellers so they can build their own travel experiences.
The travel channel can be accessed through the Petal Search app, Petal Search web version, Huawei Assistant, or users can swipe down on their Huawei phone.
The Skyscanner integration will be available to the 40 million monthly active users of Huawei Petal Search in 170 countries, and over 28 million monthly active users of Petal Maps in 160 countries.
Sonja Balcer, director of affiliate marketing at Skyscanner, said: "We're pleased to be partnering with Huawei to power flight discovery in Petal Search with our industry leading API.
"Petal Search users will now be able to find millions of flight combinations to destinations throughout the world, all in the palm of their hands with the most competitive flight prices and fast results.
"Our collaboration comes at an important time for the travel industry and we're looking forward to winning both globally and locally together in the coming months and years ahead."
Skyscanner said the integration with Huawei Mobile Services comes as airlines are bringing back capacity post-pandemic and border restrictions are being relaxed globally.
Recent survey data commissioned by the Trip.com Group price comparison site revealed 86% of travellers are planning to spend more or the same on travel compared to pre-pandemic, with half spending more.
And travel demand is returning strongly in many regions across the world, with global search volumes up 20% month-on-month in March compared to February.
Jaime Gonzalo, vice president Huawei Mobile Service Europe, said: "As tourism picks up and consumer confidence grows, we think this is the perfect time to encourage consumers to get back out there.
"We want to support adventurous mindsets by building new and existing partnerships with travel and search brands to help build Petal Search as an efficient and reliable travel companion.
"The arrival of Skyscanner to Petal Search sets a new milestone for our commitment of working with market leaders and innovators, like Skyscanner, which works with over 1,000 suppliers and that also appreciates our effort of giving more choices to end-users in a win-win approach."