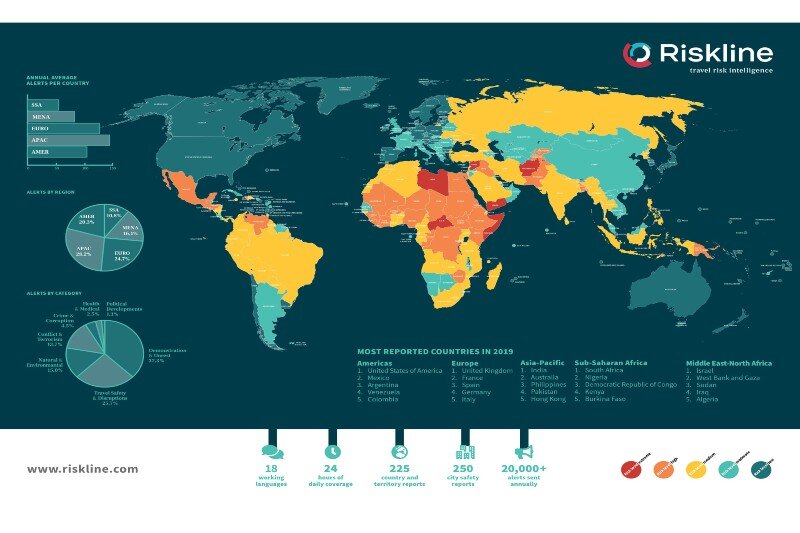 Riskline expands street-level city safety maps to cover 250 locations
Riskline expands safety maps to 250 cities
Safety intelligence firm Riskline has expanded its collection of city safety maps to cover 250 cities worldwide.
---
More: Booking.com pilots responsive city guide app for Paris, London and Amsterdam
Kathmandu and GoPro team up for Google mapping project
---
The maps have been created to provide safety and security information providing detail down to street-level.
Riskline says its analysts create the maps using open source and human intelligence from local authorities in an effort to provide city-specific threats, street-level data and other local knowledge.
Cities covered range from Los Angeles, Helsinki, Santiago, Port au Prince, Port Moresby and Suva in Fiji.
Each map aims to give travellers information about specific neighbourhoods and landmarks in the city, with high crime zones, protest points and other areas of concern highlighted for them to make informed travelling decisions.
Suzanne Sangiovese, commercial and communications director at Riskline, said: "When it comes to risk, we know that it's the granular detail that's crucial to travel managers."
"Being able to accurately assess a location or situation and communicate the necessary detail to travellers is pivotal to successful and safe business travel."
The maps are available to resellers and direct clients of Riskline in addition to its existing 250 city safety reports.
Sangiovese added: "Our extensive collection of city maps is highly researched and regularly updated in order to provide the very latest and accurate information."
"Travel managers can easily navigate these maps to source the information that's relevant to them."
Sangiovese will be speaking at the Business Travel Show on February 27 as part of the Forecasting Forum 2020 – the travel price and risk outlook for the next 12 months.