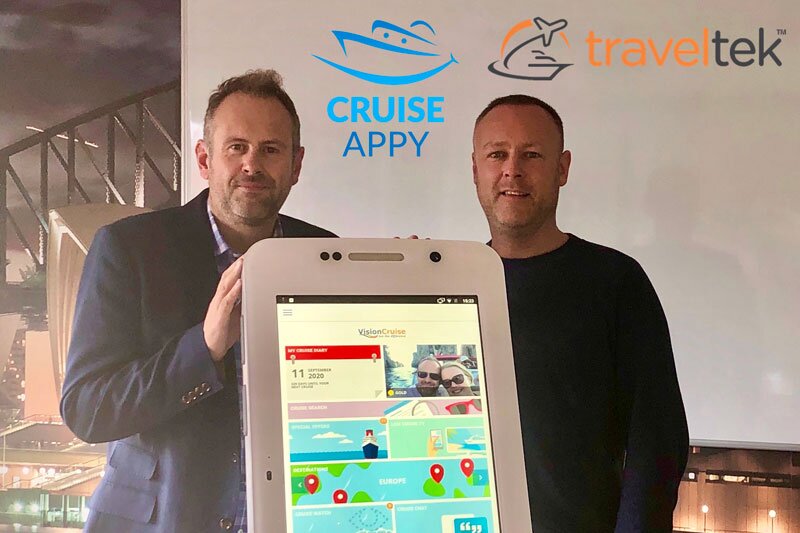 Travel Forward 2019: Traveltek agrees deal to integrate CruiseAppy
Start-up established by tech firm's former global sales director Peter Whittle
Technology supplier Traveltek has agreed a partnership with start-up B2B cruise app supplier CruiseAppy that was established by its former global sales director Peter Whittle.
Glasgow-based Traveltek has integrated the app with its leading retail and packaging platform iSell and iBos back office technology used by its travel agency and operator client base.
All cruise, flight and hotel packages curated by agency partners on the Traveltek platform will be featured on the app, along with full online booking for major cruise lines, synchronisation and automation of quotation and booking data, payment of holiday balances and push of customer documentation into the app.
Each CruiseAppy app is branded to the style of the cruise retailer and made available to its customers on the Apple App Store and Google Play.
Cressida Sergeant, chief commercial officer at Traveltek, said "After much demand from our customers for app technology we are delighted to be partnering with CruiseAppy as a solution.
"This partnership offers a valuable new mobile sales and customer engagement channel for our existing customers, as well as broadening our product offering that will attract new clients to our wide range of services.
"We have already worked well with CruiseAppy in case study projects which has demonstrated the combined power of Traveltek's live availability and booking API within an app environment and formalising the partnership to include areas of CRM and back office brings significant benefits to all our cruise customers"
Peter Whittle, co-founder and chief executive of CruiseAppy said: "This marks a significant milestone for CruiseAppy, which, since our move from incubation stage to full launch this month, has already generated great demand with new agents signing in the first weeks of launch.
"This partnership broadens the product portfolio for both Traveltek and CruiseAppy, while offering us access to a substantial number of potential new app clients.
"55% of holiday research now starts on a smartphone and 78% of all video is now watched via a smartphone.
"With these stats in mind, this partnership gives a great opportunity to inspire cruisers and provide great customer engagement features via a mobile app that will ensure cruisers will keep coming back to the travel agency for all their cruise needs, again & again."
Traveltek and CruiseAppy will be showcasing the partnership next month (November 4-6) at World Travel Market on stand TT506.