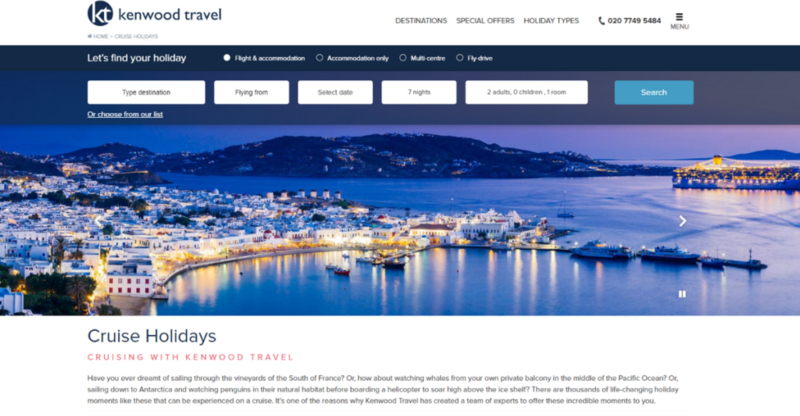 Kenwood Travel launches cruise website with 'industry first'
Head of cruise Emma Sanger-Horwell says it is a first for the industry
Kenwood Travel has launched a cruise website featuring what it calls an "industry first".
The agency has today (August 1) unveiled the standalone cruise website focused on luxury lines, but offering options for all markets.
The website enables agents and customers to book sailings, pre and post-cruise accommodation, transfers and flights in one place, with flexibility on what they want to do, which head of cruise Emma Sanger-Horwell said is a first for the industry.
It also features live feeds from eight cruise lines – with more to be added – which show customers all itineraries and offers the lines have available in real time.
In an interview with Travel Weekly, Sanger-Horwell said the agency already offers the functionality for its land-based holidays, and is seeing roughly a third of this kind of booking come through the system.
While she expects the volumes of people booking luxury cruises on the website will be lower than that of land-based holidays, Sanger-Horwell said she thinks "hardened cruisers" will appreciate the option.
"People like to have their hand held so we anticipate the numbers of luxury cruisers booking through the website to initially be lower than the volumes of people booking land-based holidays, but for the hardened cruisers who know what they want, they can sit there and book it all themselves which is a great alternative," she said.
"It also means our cruise consultants can save time ringing up various cruise lines or going into multiple booking platforms because they can do it all in one place with real-time information."
The website is currently accessible through the main Kenwood Travel site, but as the agency's cruise division expands, it will have a standalone website.
Sanger-Horwell went on to say she is "chuffed" the website is up and running, which has been her main focus since she joined the business three months ago.
"I'm super chuffed, I could cry," she said. "The website is a work in progress but I will be adding to it all the time and in the future we will package some really bespoke itineraries.
"Although we are a small team, we have a very young and technologically advanced group of IT and marketing bods who work extremely hard.
"I don't think there are any other agencies offering the level of autonomy and flexibility that we are – this is an industry first."