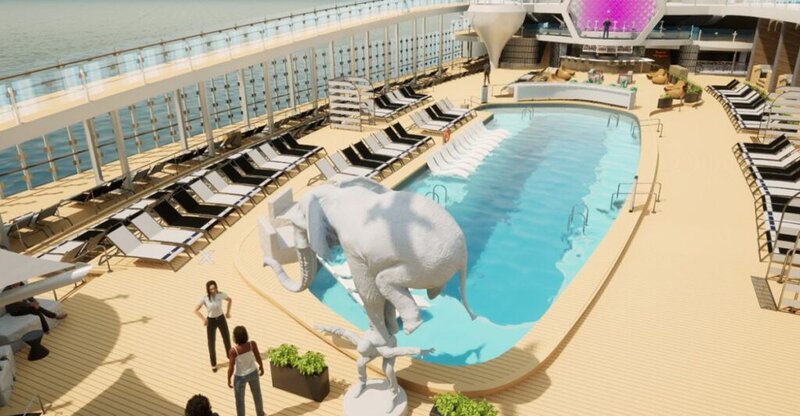 Celebrity Cruises creates new virtual world to showcase ship
'Wonderverse' experience will allow agents and their customers to explore the Edge-series ship before they sail on it
Celebrity Cruises has created a virtual world for the first time with the launch of a digitally recreated Celebrity Beyond.
The cruise line's Wonderverse experience will allow agents and their customers to explore areas of the Edge-series ship before they sail on it.
The Magic Carpet; Grand Plaza; Resort Deck and Sunset Bar are all available to view in Wonderverse.
They can also meet and chat with the line's brand leaders including president and chief executive Lisa Lutoff-Perlo, captain Kate McCue and Nate Berkus, who designed the Sunset Bar onboard.
Built in partnership with virtual event platform architects Surreal Events, Celebrity's Wonderverse also has mini games and activities, entertainment, and Easter eggs revealing special offers.
The Wonderverse is hosted on the web at celebritycruises.com/wonderverse and launches on Wednesday, December 14.

Celebrity's agent database will be sent an email encouraging them to access Wonderverse. A log-in link will be posted on trade portal Celebrity Central.
"Celebrity Beyond is the newest, most luxurious and most innovative ship in our fleet and I can't think of a better ship to showcase its state-of-the-art design than in Wonderverse," said Lutoff-Perlo.
"Celebrity has always been at the forefront of consumer desires, literally creating resorts at sea with the design of our ships and the onboard experiences offered; and now we're bringing this to life in new ways to inspire and connect with travellers."
Chief marketing officer Michael Scheiner said: "We've revolutionised cruise ship design and now we're revolutionising where cruise ships are experienced.
"The Wonderverse allows us to unlock and bring to life the richness and fullness of the Celebrity experience in really exciting ways we can't do through traditional marketing and advertising vehicles.
"We believe this has opportunities to expand even further, creating experiences our consumers are looking for."