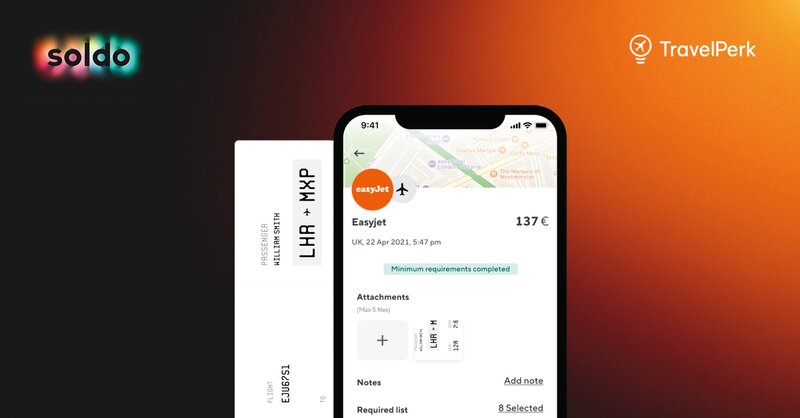 Soldo and TravelPerk collaborate on 'seamless' expense management
Partnership comes after period of considerable growth for both firms
European spend management platform Soldo has agreed a partnership with travel management platform TravelPerk to provide 'seamless' travel and expense management.
The partners said the deal will allow for an increasingly connected travel management experience as the sector recovers from the COVID-19 pandemic.
Last year, travel and entertainment spending tripled across its 30,000 customer base, according to Soldo data.
The integration will give customers the ability to sync invoices from TravelPerk into the Soldo platform for travel spending made using a Soldo card.
Partners have been promised reduced manual work, time savings and richer insights and data within the Soldo platform.
Both Soldo and TravelPerk say they are "committed to helping businesses manage to spend effectively - improving visibility and control for finance teams".
Carlo Gualandri, chief executive and founder of Soldo, said: "Business travel is returning at great speeds. We can see this by the increase in spend across our platform.
"We're excited to partner with TravelPerk on this opportunity which will enhance the experience for our joint customers who will benefit significantly by combining industry-leading spend automation with world-class travel management - from booking to reconciliation."
Huw Slater, chief operating officer at TravelPerk, said: ''With the recent lift of COVID-19 measures in the UK and other major countries, employees need a flexible and complete solution when travelling for business more than ever, while finance teams need to keep track of every penny through built-in travel policies and approvals.
"We are thrilled to partner with Soldo to meet our customers' needs and deliver the best travel and expense experience."
The signing of the partnership follows strong growth for both companies. In July of last year, Soldo announced closing $180 million Series C funding.
It also saw four-fold growth in spend volume across its platform since its Series B, despite the backdrop of the challenging economic environment.
In January, TravelPerk secured an additional $115 million in Series D funding.