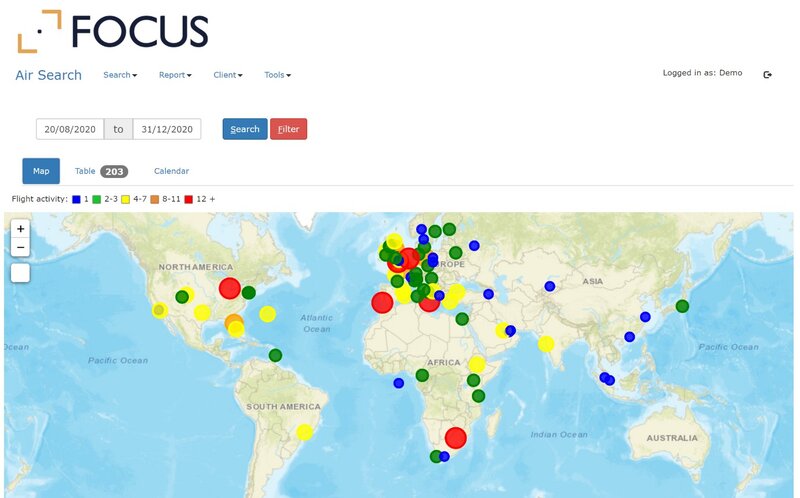 Focus Travel Partnership launches duty of care traveller tracker for corporate agents
PinPoint allows agents and corporates to assess COVID-19 risk and manage travel
Independent corporate travel agency consortium Focus Travel Partnership has launched a new duty of care technology system.
PinPoint will enable travel management companies and corporates to check where travel teams have been, are and due to go.
It also allows direct messaging to individuals or teams who are on the move and overlays Foreign Office advice and COVID intelligence into traveller locations.
Focus said PinPoint means TMCs and firm can assess current risks so travel arrangements can be managed, amended or cancelled according to government advice.
Abby Penston, chief executive of FTP said: "In the current climate, TMCs need to be ahead of the game when it comes to advising their corporate clients with the correct advice for their travellers.
"PinPoint, with its simple and clean interface, provides a cost-effective duty of care system which provides a sophisticated blend of intelligence and fast response capabilities, which provides reassurance and confidence to travel for those individuals still hesitant to travel.
"This product puts the Focus Travel TMC in an incredibly strong position to support their corporates responsibly as we begin to return to business travel."
PinPoint has been designed to manage risk and compliance for travellers and to provide corporates with detailed travel information of each traveller in a simple, visual map interface.
The system has multiple methods of searching, by:
Traveller;
Location or city;
Supplier;
Flight number;
Hotel;
FCO and Safeture/Covid19 overlay.
FTP said it can also help manage the maximum permitted number of travellers on the same aircraft.
The system can also create traveller groups so PA's can see all their bookings in one place and it is easy to implement and administer.
The map provides visual information and hovering over a location provides details of a trip for an individual.
The information can also be in table format which can be replicated in report form. Travellers can also be contacted directly from the system by SMS or email.