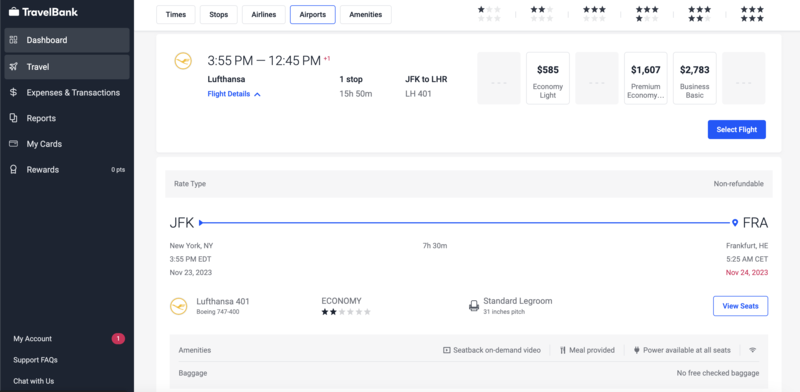 TravelBank now offers Lufthansa NDC booking features in-app
Lufthansa is the third airline available with NDC offerings on the platform
US-based corporate travel management and expenses platform TravelBank has announced it now has NDC booking features with Lufthansa Group live in its platform.
This is the third airline available with NDC offerings on the TravelBank platform, with the first two being American Airlines and United Airlines.
This initiative is part of its larger goal to "continuously provide its users with a best-in-class experience and the most up-to-date technological advancements".
The Lufthansa Group includes Lufthansa, SWISS, Austrian Airlines, Brussels Airlines, Discover Airlines and Air Dolomiti.
With Lufthansa Group NDC now live on the app, customers can now save money when they book a Lufthansa Group flight on TravelBank, by avoiding the Distribution Cost Charge (DCC), which is typically $19 per flight.
Its users can expect to see other NDC features from Lufthansa Group like being able to search, book, cancel, and modify flights.
Within the TravelBank app, travellers can also select and purchase premium seats.
"Partnering with TravelBank allows even more corporate customers and their travelers to access our broad range of NDC-exclusive offerings" says Johannes Walter, acting head of digital retailing of Lufthansa Group. "
"We are excited to offer our joint customers a seamless booking and servicing experience and are looking forward to continuously enhancing our joint value proposition."
Duke Chung, co-founder and CEO of TravelBank, said: "Being able to offer our customers better booking options is a huge part of our mission with NDC capabilities.
"We are honoured that Lufthansa Group can be a part of this bigger story with us."