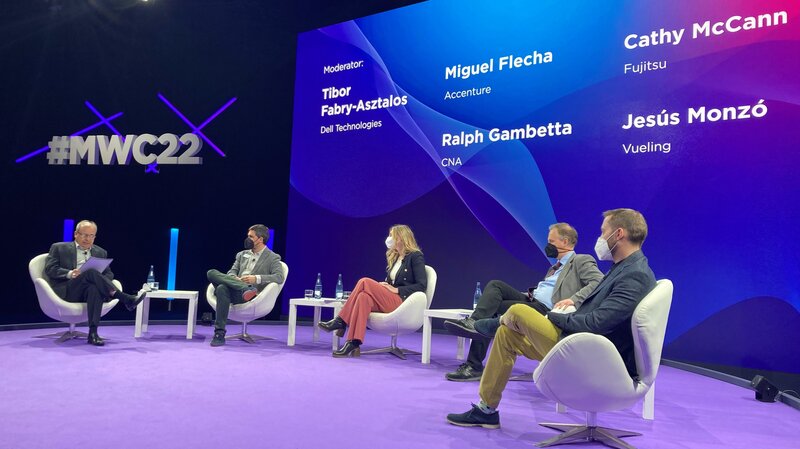 Technology no barrier to a multi-modal future, Mobile World Congress told
Spanish carrier Vueling takes part in session that identifies collaboration and regulation as key to a more sustainable travel sector
Technology is no longer a barrier to creating a true multi-modal travel sector but for it to be realised supplier collaboration, regulation and data protocols need to be agreed.
That was the message from expert speakers in a session at the Mobile World Congress in Barcelona last week featuring budge airline Vueling, a sister carrier to BA in the IAG group.
Jesús Monzó, distribution and strategy alliance manager at Vueling, said the airline is working on aggregating suppliers from airlines and rail operators to taxis and even micro-mobility options like e-scooters.
He said customers "want a seamless and frictionless digital experience that has real-time information and can be managed through their mobile devices".
The rollout of 5G networks will be key to integrating applications and to aggregating services from multiple transport suppliers for a true door-to-door experience.
Monzó said to do this successfully the technology needs to be able to share data between 5G devices so that the user can be tracked along their journey so the booking can be dynamically adapted in the event of disruptions.
Ralph Gambetta, secretary general of Calypso Networks Association, said travel and technology organisations can put together the building blocks.
But he added the glue that sticks them together is a regulatory framework, a willingness for different players to share data and a comment set of business rules.
"This is the difficult part of the story," he said. "Many times the technology is there but that's no good if you do not agree on the business rules, the framework, which is innovation friendly."
Cathy McCann, head of innovation and portfolio UK public sector at Japanese technology company Fujitsu, said the firm is working on "Wayfinder" technology to help users of 5G mobile devices to navigate every part of their journey.
"Having that joined-up experience is really key for travellers and being able to plan your end-to-end journey…and being able to base those decisions on your individual preferences.
"We need to be able to inform people about the decisions that they are making, particularly the impact on the environment. You might want to lowest cost fare but you might want to balance that with the environmental impact that might have."
McCann said the opportunity that multi-modal offers is for the travel sector to operate in a much more sustainable way.
"There is tremendous opportunity for us to increase sustainability and decrease emissions but it very much depends on us taking a much more co-operative approach than we do today.
"That very much depends in travel providers working at higher levels of collaboration. That's going to be essential for us as passengers to make greener choices and reduce our emissions.
"There is a lot of potential in the data that's produced by passengers and travellers and that unprecedented amount of data requires huge processing power. That's where high-performance quantum computing and AI come in."
Miguel Flecha, managing director – travel industry at Accenture, said multi-modality requires collaboration which is complex.
"One of the biggest challenges of the industry is disruption and how to manage cancellations. If you are adding more ingredients in the same recipe it will be even more difficult.
"You need to fix the complexity. If you want true end-to-end multi-modal travel you need to have every collaborating. Who owns the client? And who owns the data? This is a huge opportunity to capture really valuable data but who is going to own that?"
Flecha added: "Looking long-term travellers want to travel more sustainably. We are now in a very important moment in designing this multi-modal experience to do it right.
"It's not just about taking the train and flying less. We need to make sure we are designing something for the future where all the actors have a substantial role.
"Let's make sure we are protecting all the different actors in the value chain because, at the end of then day, we need them. It's easy to say let's travel more sustainably but are we going to pay more for that?"
Monzó said: "As we emerge from the [COVID] lockdown there's a feeling we have a unique opportunity to redefine the way we travel and multi-modal is bringing the consumer the ability to choose the most convenient journey. It's not just about time and price.
"It's a matter of education, accessibility and information. Incentives [to use alternative forms of transport] are good but it's not sustainable over time. You cannot constantly give incentives because ultimately it's not going to pay off. Multi-modality is changing consumer behaviour."