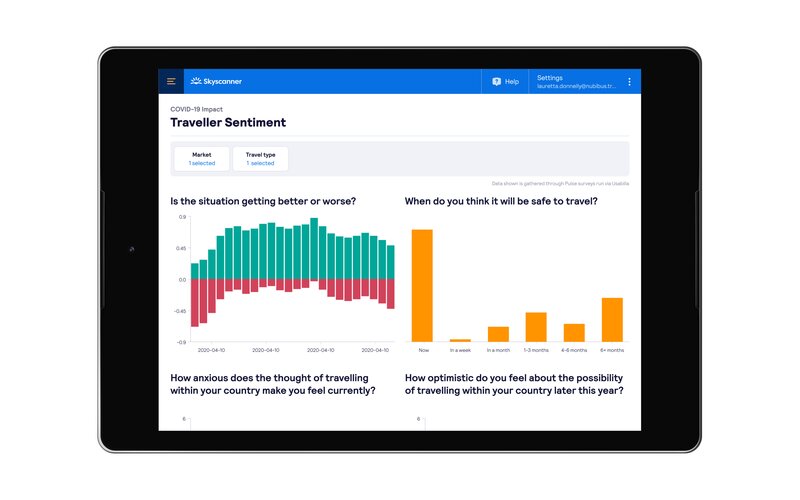 Skyscanner's new Travel Insight Vision tool sheds light on trends for COVID-19 recovery
'Highly visual business intelligence tool' offers airlines and airports vital insights, says price comparison site
Travel price composition site Skyscanner has launched a new business intelligence tool providing insight into trends and the impact of COVID-19.
Travel Insight Vision is described as a "highly visual business intelligence tool" which analyses traveller behaviour by capturing flight search and intent data, for route development, route optimisation and travel trend analysis.
The Service as a Software (SaaS) platform incudes a COVID-19 impact module which charts the changes and impact on flight demand linked to government restrictions, quarantine policies and opening and closing of borders.
The module looks at market and route trends, up to 12 months ahead, and provides insights into traveller mindset and willingness to travel in the near future, broken down by market.
Skyscanner said this can be used by airlines to determine the best strategies to return routes to market, adjust inventory algorithms and navigate their way towards recovery.
Michael Docherty, commercial lead for data products at Skyscanner, said: "The way the aviation sector worked before simply won't work anymore; pricing strategies can no longer rely on the booking curves of last year, capacity decisions are being driven by open borders and quarantine restrictions, and travel demand is changing every day.
"Our sector is facing unparalleled dynamics. It has never been more essential to have insights from real-time data to respond quickly to potential business opportunities and mitigate risks.
"Every day we are unveiling new trends within the travel landscape; from a massive rise in demand for domestic travel to a growing popularity of shorter booking windows as travellers wait until the last minute to book their trips. We want to empower our partners to truly understand this new world of travel and sharpen their vision of the future."
Travel Insight Vision also features a performance module, which provides competition analysis for airlines and airports, looking at evolution and competitiveness.
Airlines and airports can analyse the competitor landscape in relevant markets and on specific routes, as well as monitor price evolution, said Skyscanner.