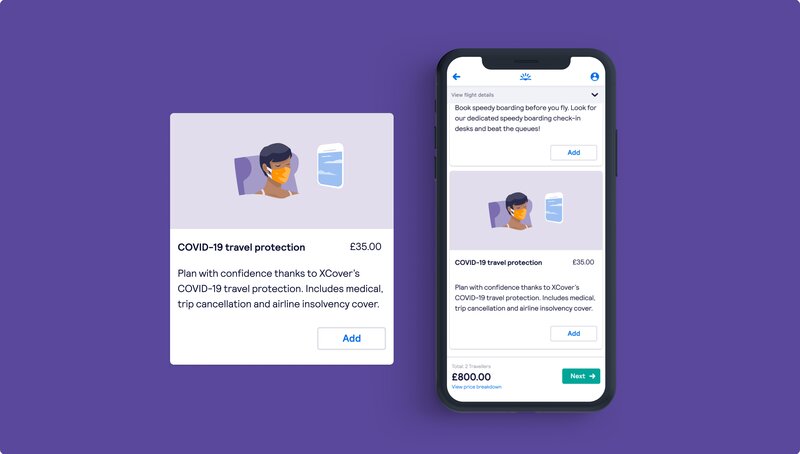 Skyscanner partners with Cover Genius to offer 'first of a kind' COVID insurance policy
Phased roll out will start in Europe before policy is made available in up to 50 countries
Skyscanner and insurance technology specialist Cover Genius have teamed up to create a new COVID-19 policy.
The metasearch site described the new travel insurance package as a "first of its kind".
It will initially be available to travellers as part of a phased roll-out in Europe, before becoming available in up to 50 countries worldwide.
The policy includes a combination of medical, trip cancellation and airline insolvency cover, including protection against travel disruption and sickness caused by COVID-19.
Skyscanner said it has been designed to "protect travellers, provide clarity and give them peace of mind when taking a trip".
Tiago Godinho, commercial director at Skyscanner, said: "We're bringing a new type of insurance product to market with our COVID-19 travel protection.
"In today's uncertain and changing travel landscape, the most important thing we can do is to give travellers the confidence they need to plan and book a flight, knowing that they are covered whatever happens.
"This first of its kind package offers a high level of cover, going as far as reimbursing travellers if they fail a temperature check at their destination, ensuring complete peace of mind for anyone wishing to travel right now.
"We're pleased to be partnering with market leader Cover Genius whose technology and end-to-end insurance capability mean that we can reassure travellers globally and help them get back to travelling again."
In a recent Skyscanner survey, travel insurance was named as one of the top three factors that would give travellers more confidence to fly or book their next trip.
Cover Genius' BrightWrite data analytics team has also found since the pandemic outbreak in March, insurance attach rates in certain hotspots have increased by 400-600% at their peak versus December 2019.
The new cover will be offered to travellers at the point of purchase and initially to those who book directly via Skyscanner in France, Germany, Italy, Netherlands, Spain and UK.
Skyscanner has integrated of XCover, Cover Genius' global insurance distribution platform.
XCover enables customers to access personalised and optimised protection to fit individual travellers' itinerary, trip and destination based on real-time data.
It also includes full digital claims management and instant payment of claims in more than 90 currencies.
Peter Smith, head of travel partnerships, EMEA at Cover Genius, said: "We're proud to be partnering with Skyscanner to bring this market leading set of insurance products to travellers worldwide, via XCover, our global insurance distribution platform.
"Our team has moved swiftly to build new insurance products that offer increased protection for customers dealing with unique circumstances as a result of COVID-19.
"These new products  will not only offer customers personalised coverage and speedy payment of claims, but also provide a sense of safety and security so they can book a vacation and travel again with confidence."