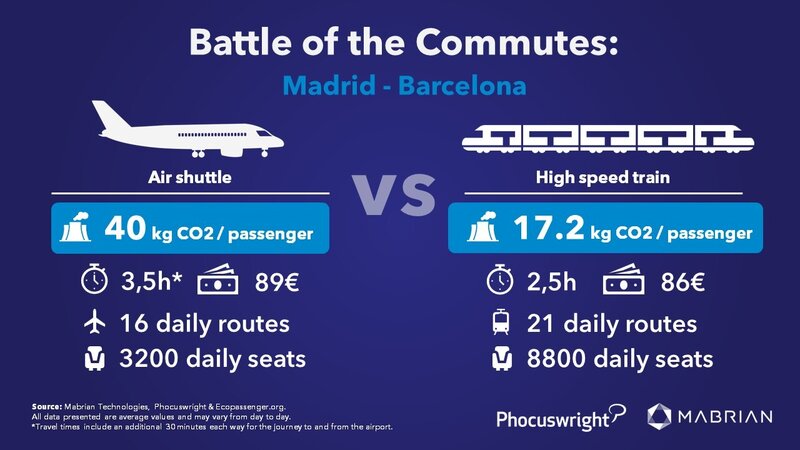 Mabrian and Phocuswright produce study on potential impact of short-haul domestic flight ban
Can Spain's rail infrastructure handle train-only commuting between its cities?
Ahead of Phocuswright Europe in Barcelona next week, Mabrian and Phocuswright have revealed a joint study on what the potential impact of implementing a short-haul domestic flight ban in Spain would look like.
Last month, France's ban on short-haul domestic flights came into force, in a bid to reduce carbon emissions.
This move by the French government means that any journeys that are possible in less than two-and-a-half hours by train cannot be taken as a flight.
Carlos Cendra, sales and marketing director of Mabrian, said: "The French government's regulation is a very significant precedent in Europe for reconsidering the efficiency of short-haul air travel.
Together Mabrian and Phocuswright have conducted a case study of the Barcelona-Madrid route and the implications of this journey via rail and air.
The 630 kilometre-route can be reached by a high-speed train in just 2.5 hours.
According to a report by Ecopassenger.org and UIF, high-speed trains emit around 17.2 kg of CO2 per passenger and journey, which can be further reduced to 9.6 kg per passenger and journey when using renewable energy sources.
The most recent data from Mabrian, a provider of travel intelligence, shows this represents less than half of the carbon footprint associated with air travel.
The average carbon footprint per passenger on the Barcelona-Madrid air route is 40 kg of CO2.
The calculations by Mabrian show the total CO2 emissions generated by the 5,744 flights between the two cities in the past 12 months would amount to approximately 54,000 tones.
This figure represents a 132% increase in emissions over the 27,000 tonnes that high-speed trains would emit with the same number of passengers.
Trains generally offer the convenience of departing from within cities, whereas airports are often located outside urban areas, resulting in additional energy consumption and transportation costs.
Prices were comparable over a 12-month period but total travel time from Barcelona to Madrid is 3.5 hours, in contrast to high-speed trains that complete the journey in 2.5 hours.
Eugene Ko, director of marketing and communications of Phocuswright, said: "There's a growing share of consumers that are eager to act on sustainable travel when making trip-related decisions.
"According to Phocuswright's research report 'Sustainability in European Travel 2021', more than two in three travelers in all countries are likely to fly less to reduce their carbon footprint.
"In Spain, more than one in three intend to use rail more frequently for future trips."
Spain could be ready to handle a ban on short-haul domestic flights should it arise, with 21 high-speed train routes operating daily between Barcelona and Madrid and 8,800 seats versus 16 air connections daily and 3,200 seats.
Operators, Ouigo (SNCF) and the Italian joint venture, Iryo (Trenitalia) are also set to expand their services to other high-speed routes in 2023, such as Madrid-Valencia and Madrid-Seville-Málaga.