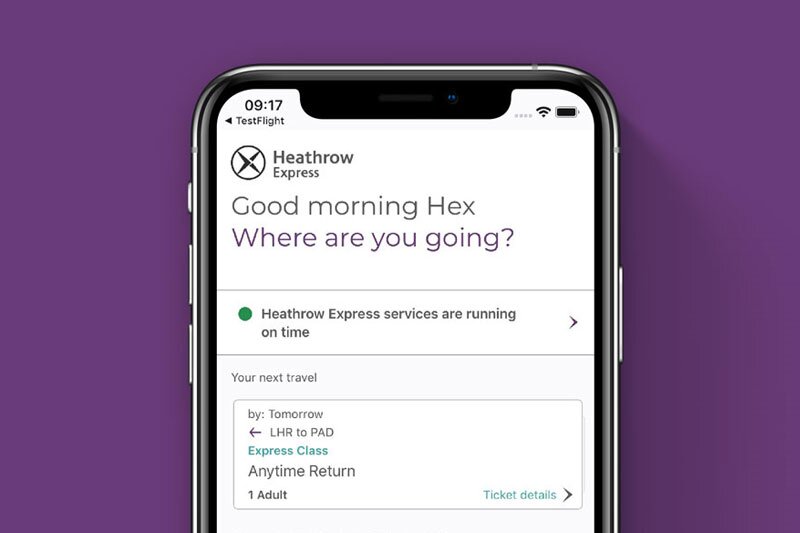 Heathrow Express tests new API tech as it launches revamped app and website
Move comes as rail operator unveils cheap online fares
Heathrow Express has launched a new multi-lingual website and app and has started tests on new B2B API technology.
The technology enhancements come as the Paddington to Heathrow rail operator makes cheap online fares, from as low as £5.50 off peak, available every day of the week.
Improvements to the website and app allow travellers faster booking, clear ticket and price options, personalised suggestions using customer location and booking history and automated next train times.
In parallel, Heathrow Express is upgrading its API technology which is currently integrated with various partners' booking systems for fast processing of ticket requests from corporate clients or trade partners.
A new JSON REST API developer portal with a sandbox testing environment is being created which will allow partner developers to co-create and test their own integrated API system ensuring Heathrow Express ticket sales are integrated alongside their own platforms before being launched to customers.
The portal is currently being piloted by Distribusion with an expected full release in the new year. Once this happens, the system will be rolled out to third parties in the trade such as Travel Management Companies, ground transfer operators.
Heathrow Express has implemented a yield-management system similar that which airlines use and says increased availability of discounted tickets offers more value having frozen prices since 2018 as well as its permanent kids travel free initiative.
The operator will make a guaranteed number of discounted tickets available every day of travel for advanced online purchase thanks to a new dynamic pricing structure.
Previously the cheapest weekday travel available was £12.50 when booked 90 days in advance rising to £16.50 for bookings up to 14 days before travel.
Now, customers booking in advance will see fares available for £5.50, £7.50, £10.00, £12.50, £15.00 or £16.50 depending on availability.
To access the new prices, travellers will need to book through the new Heathrow Express website and smartphone app.
Les Freer, Heathrow Express director, said: "Rolling out our £5.50 one-way fare across the week means thousands more customers can travel for less with Heathrow Express.
"Speed and convenience is crucial to Heathrow Express customers who have rated us top in the National Rail Passenger Survey three times in a row and our new website and app delivers on these too.
"Our continued investment in technology will improve the customer experience for both trade partners and end users making the booking process more personalised, quicker and simpler to use."