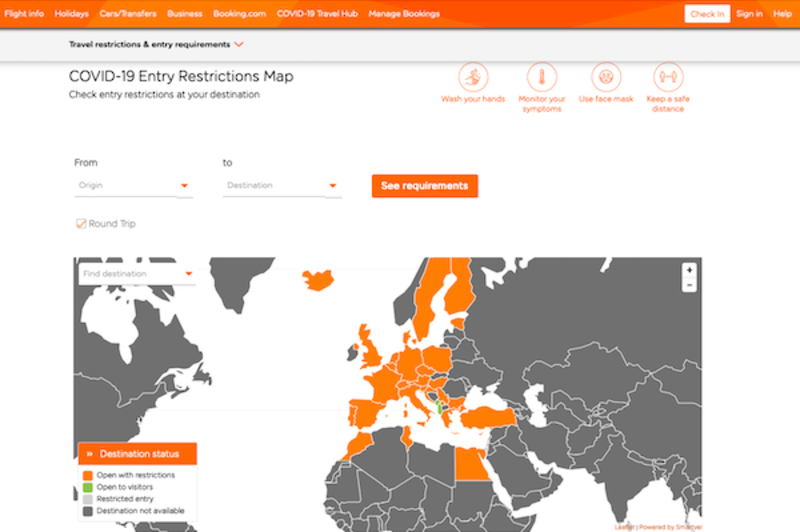 COVID-19 Travel Hub launched by eastJet to aid trip planning
Information on rules in 35 countries collated by the budget carrier
EasyJet has launched a Covid-19 Travel Hub on its website, offering information about rules for flights to and from the 35 countries on the carrier's European network.
The interactive restrictions map aims to make the planning process "more seamless" and features the latest travel guidelines.
It features real-time information when searching for popular destination types, including beaches, city breaks, outdoor getaway and for business travel.
The tool offers details on entry restrictions, quarantine measures, Covid-19 tests, information for vaccinated passengers, testing labs, forms required, health insurance and connecting flights.
easyJet and easyJet holidays have also created an online traffic light information page for customers in the UK to help them navigate green, amber and red list destination requirements.
Sophie Dekkers, chief commercial officer at easyJet, said: "We want to help our customer navigate through the various travel requirements and restrictions so they can feel confident about making their booking this summer.
"Our new Covid-19 Travel Hub will really help to equip them with the resources and tools they need to plan their next trip."
She added: "We also expect the number of countries on the green list to grow next month to enable safe travel to many of our popular European summer destinations, and we have flexible policies so customers can book with confidence and change their plans if they need to."
The airline cited a recent study by leading epidemiologists suggesting that much more of Europe should be classed as green by the UK government.
The research shows that travel from several European countries would not affect the UK case rate and that travel to Europe would have very little impact on hospitalisations in the UK.
easyJet has partnered with approved testing firms across Europe so that customers can access tests, including PCR tests from £60 if required for their trip.