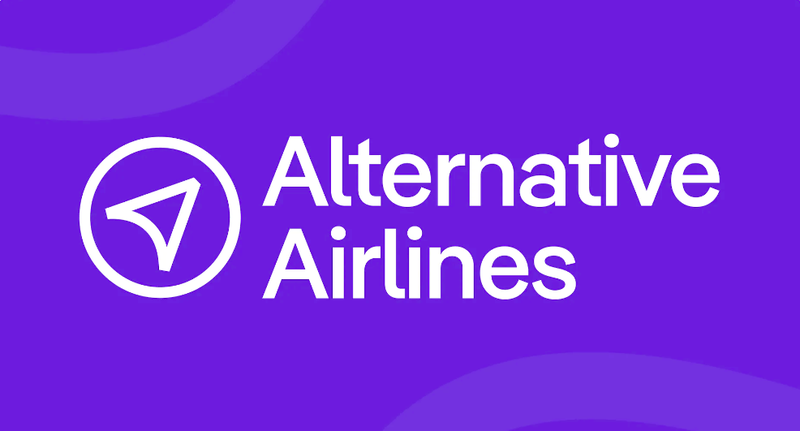 Alternative Airlines unveils new brand identity
New look, logo and vision 'reinforces its position' as the 'preferred choice for flight bookings worldwide'
Global flight booking site Alternative Airlines has unveiled its brand re-fresh.
The new brand identity aligns with Alternative Airlines' "renewed vision, purpose, and values", said to reinforce its position as the "preferred choice for flight bookings worldwide".
Alternative Airlines' new vision is "to become the world's preferred choice for flight bookings", which is "underpinned by the site's relentless focus on innovation and design, to bring a wide choice of airlines, destinations and payment options to customers globally".
Its new purpose: "We're here to give everyone, everywhere, the freedom to fly", ties in with the new vision.
The site has modernised its logo with a new icon, which references a compass and the journey that the customer is set to embark on.
This icon has also been used to serve as visual navigation aids throughout the online booking journey, said to reflect the "dedicated support that Alternative Airlines' Customer Service team provides at every step of the way".
Other new elements include a "carefully considered colour palette" and design of the site, "marking a significant milestone in the company's growth and commitment to delivering an industry-leading and customer-centric flight booking experience".
Sam Argyle, managing director of Alternative Airlines, said: "Our new brand identity perfectly embodies the ambition that we have to transform the online flight booking experience for travellers globally.
"Empowering each and every customer to book the flights that they want, the way that they want, is at the core of Alternative Airlines.
"Our vision is reflected in the choice, flexibility, and control we offer at every step of our flight booking experience, as well as the exceptional support provided by our expert Customer Service team. We're proud to be giving all our customers the freedom to fly."
The timing of Alternative Airlines' brand refresh coincides with its growth in markets across the world, particularly in North America, Europe, Asia and Australasia.
"It's the perfect time for us to re-energize our brand identity, as we continue to solidify our position as the leading site for flight bookings globally," said Argyle.
"As well as serving our customer's needs, it was important that our new identity resonates internally with our team. Our new vision will guide our collective focus and help drive the next phase of growth."
Aside from the brand refresh, the site which offers more than 600 global airlines, including all major carriers as well as many smaller regional airlines and low-cost airlines, also offers customers freedom with over 40 payment options available, including flexible Buy Now, Pay Later and financing options, bank transfers, e-wallets and cryptocurrency.