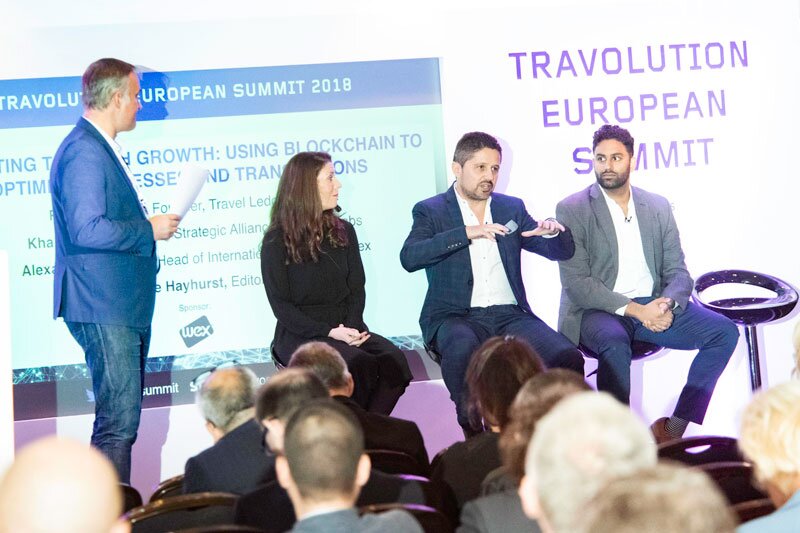 Travo European Summit: Blockchain 'not a silver bullet'
Blockchain technology is "immature" and "not a silver bullet" for the travel sector.
That is the view of Alexandra Limerick, head of international solutions at virtual travel payments group Wex.
Limerick told the Travolution European Summit in London: "We are looking at how to use blockchain to enhance what we do."
But she said: "We already do millions of [payment] reconciliations a day. That already exists. Blockchain is immature. We have a long way to go [with it]."
She added: "There is also the regulation piece. Blockchain could become an underlying platform. But it is not a silver bullet."
Khalid Ladha, strategic alliances director at BlockX Labs, a Toronto-based product-development lab, told the summit: "If you're talking about a public blockchain like Ethereum, it is not ready, it is nowhere near the scale [required by the travel industry]."
But he suggested: "Private blockchains could be of value."
However, Roberto Da Re, founder of the Travel Ledger Alliance "which aims to build a billing and settlement process (BSP) for the industry, leveraging blockchain", suggested the technology could benefit travel companies.
He argued blockchain could "bring the same kind of solutions to the travel industry, a high-transaction industry with multiple suppliers, as Iata brought [to airlines[ with its BSP".
Da Re said: "The benefits of everyone using the same platform are huge."
However, he agreed: "There is lots of hype around blockchain."
He suggested cryptocurrencies are "just a side application" of blockchain and insisted: "Cryptocurrency is not what we do."
Khalid said: "Absolutely, there is a danger of blockchain being over-hyped. You have to separate it from cryptocurrency. [But] anchoring data to the blockchain to certify something happened could be revolutionary when it comes to travel."
He conceded security is an issue despite claims of blockchain's incorruptibility. Khalid said: "Where insecurity comes with public blockchains is with centralised third parties." Private blockchain security depends on "knowing your partners" he said: "There is a trade off in the choice of solution."
Asked where blockchain might have the greatest impact, Khalid said: "For me it is identity, and it's not close."
Da Re said: "What will make blockchain mainstream is the gaming industry, and applications where people require an element of privacy and security, where people don't necessarily want to share what they are doing.
"I don't think blockchain will be felt in travel distribution any time soon."
He added: "One of the misconceptions about blockchain is it's not a data base. It's a data distribution model. It's not searchable. You have to read the blockchain. It's not built for disintermediation. Blockchain does not do anything for booking platforms."
Limerick said: "There are many blocks in the way of blockchain and if you don't break it down you're looking at using it for the sake of it.
"Blockchain is different to every other technology. With blockchain we have a technology, then ask how am I going to use it?
"I don't think we are very close at all. We are looking at it, we are interested, but first it is about regulation. In the medium term, I don't think blockchain is a primary motivation. In Europe, the costs are prohibitive."