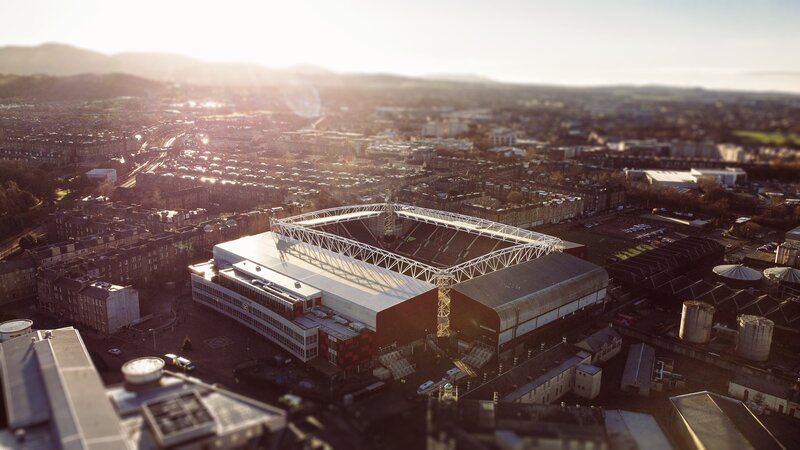 Scottish Premiership team signs RoomRaccoon to power new hotel in club stadium
Heart of Midlothian selects RoomRaccoon as the hotel management system for Tynecastle Park Hotel
Hotel management system for independent hotels, RoomRaccon has been selected by Scottish Premiership football club, Heart of Midlothian, to streamline the operations of their upcoming hotel.
The "unique" Tynecastle Park Hotel at Tynecastle Park Stadium will be a 25-room hotel within the Main Stand of the 20,000-capacity venue.
It promises to "enhance the club's off-the-pitch offerings" and create a "truly exceptional destination" for fans and visitors.
The decision to select the cloud-based platform was "intuitive" for Heart of Midlothian, as they aim to enhance the guest experience through "modern hospitality while preserving the club's iconic identity".
The new hotel will use RoomRaccoon's dynamic pricing tool and RaccoonRev, the system's native revenue management tool that shares market insights and benchmarks performance against competitors.
Tynecastle Park Hotel team will use insights and automation will used to develop a pricing strategy that is attractive to prospective guests, with a view to increase occupancy and RevPAR.
"Our decision to collaborate with RoomRaccoon for the hotel launch was driven by their excellent customer service, which included having a dedicated local contact," said Derek Paterson, hotel manager of Tynecastle Park Hotel.
"As a platform, we were drawn to the all-in-one user-friendly design and function, particularly the ability to manage all our rates from one platform.
"Without the luxury of a team dedicated solely to looking at rates, the Revenue Management function within RoomRaccoon will be a key feature for us and will help give us the confidence that we are making the most of our rates whilst being able to focus on service and looking after our guests."
Valerie Mentiplay, a member of the hotel project team, said: "The ability to customise the interface to align with our brand is crucial for us, and RoomRaccoon offers us just that and more."
Ed Kerr, market head of RoomRaccoon UK and Ireland, said: "Working with the team behind Tynecastle Park Hotel has been a fantastic experience," said
"Their well-defined goals and objectives made it easy to demonstrate how RoomRaccoon, both as a software solution and as a company, perfectly aligns with the property's requirements."
Tymen van Dyl, founder and CEO of RoomRaccoon, added: "We are incredibly honoured to have been chosen by Heart of Midlothian as their trusted hotel management system provider.
"We understand the unique significance of Tynecastle Park Stadium in the hearts of fans, and we are committed to empowering Heart of Midlothian FC and their new team at Tynecastle Park Hotel with our advanced technology so that they can focus on creating memorable and seamless experiences for their guests."