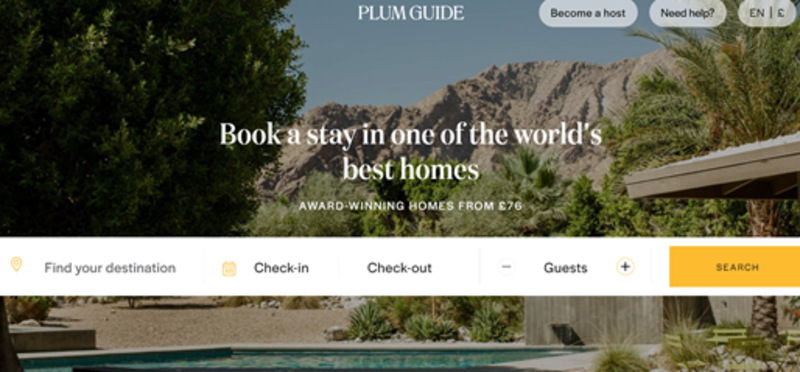 Plum Guide raises $9 million from investors and launches crowdfund
Holiday homes specialist aims to be to travel what the Michelin Guide is to food
Holiday homes specialist the Plum Guide has attracted a $9 million cash injection in a funding round led by venture capitalist investor Beringea,
The latest round also saw participation from existing investors Talis Capital, Hearst Ventures and Latitude.
Hosts, guests and fans of the brand have also been invited to join the round via a crowdfunding campaign being run on Crowdcube.
The firm said the funding will accelerate its "rapid climb towards boasting the definitive list of the world's best vacation homes".
It now lists properties in over 500 destinations across 29 countries.
The crowdfund campaign is inviting "people who have a passion for travel and who expect perfection from their homestays to join world-class institutional investors excited by Plum Guide's distinctive vision; to create a world-class trust mark for travel".
Plum Guide claims to have a unique approach in the alternative accommodation sector by finding and awarding the best homes in each market through a combination of data, technology and expert 'home critics'.
It says this separates the good from the great. The brand claims to be the world's most recommended homestay company and has attracted $57million in investment since launch.
Pre-COVID growth stood a three times year on year. In August, sales were at 90% of pre-pandemic levels, while international travel remained at only 26% of normal levels.
Doron Meyassed, founder and chief executive, said: "We're proud to have built a brand that guests love, with industry-leading NPS due to our unique approach to curation at scale. Plum Guide is the new global standard for quality in the travel sector.
"The Plum Guide Award is to travel what the Michelin Star is to food, and what the New York Times Bestseller List is to books.
"We are catering to discerning global travellers who simply expect the best. They want unique properties in exciting destinations for a homestay in comfort and style."
Karen McCormick, chief investment officer at Beringea, said: "As consumers start making up for lost time, there is going to be vast demand for exceptional, reliable travel experiences.
"The entrepreneurial experience of Doron and his remarkable team has ensured that the pandemic has simply driven the company from strength to strength, and its impressive performance as lockdowns have eased demonstrates that Plum Guide is a business strongly positioned to harness the 'revenge' travel boom."
Octopus Ventures' Zihao Xu added: "After almost two years of being cooped up at home, people are desperate to get out again.
"As international travel bounces back following COVID there will likely be a flight to quality.
"Holiday travel will no longer be taken for granted, and I suspect people will be less willing to put up with the risk of booking accommodation that ends up being dismal and ruining their precious time away.
"Plum Guide is perfectly placed in this environment. Customers have always loved Plum's service (as shown by its industry leading NPS), and over the last 18 months Doron and the team have shown top class resilience in weathering the storm and improving both the service and the business fundamentals yet further.
"We have worked with the Plum Guide team for almost four years and are more excited than ever about the future of this special company."