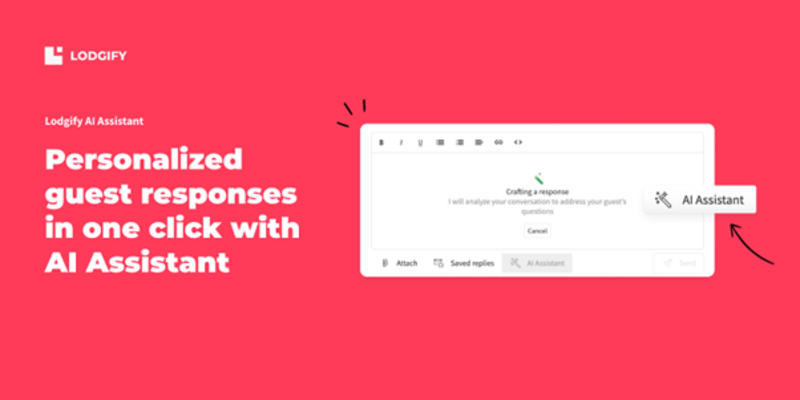 Lodgify launches AI Assistant to optimise guest communications
AI Assistant will review the latest message sent from a guest and then draft a tailored response
Accommodation rental platform Lodgify has unveiled its AI Assistant, a GPT-powered messaging tool that generates responses to guest questions based on information available in their Lodgify account and reservation data.
The feature, which was released in beta over the last few months, is now available to all Lodgify customers around the world.
Lodgify's AI Assistant is located inside the hosts' unified inbox and is designed to "enhance" communications with guests by "providing an intuitive way to address their inquiries and needs more efficiently".
The AI Assistant will review the latest message sent from a guest, then draft a personalised, contextually relevant response drawing upon information from the Lodgify hosts' database.
It can provide details like directions, check-in instructions and sleeping arrangements, answer questions related to policies and amenities and offer local recommendations for activities or places nearby. It will also deal with user-specific requests, complaints and feedback.
Hosts will be able to review or edit the AI-generated response before sending it to the guest as well.
"We know that fast, reliable, and personalised communication is a core part of a positive guest experience, and we're excited to harness the power of AI to facilitate that," said Dennis Klett, co-founder and CEO of Lodgify.
"Our AI Assistant aims to streamline the process so hosts can save significant time while elevating their guest relationships. We look forward to iterating on this feature over the next few months."
Lodgify is currently working on extending its AI Assistant's capabilities, anticipating the needs of its global customer base from over 100 countries.
An upcoming release includes offering translation of the AI-generated responses via Google Translate so hosts may communicate in the guests' native language or other languages as needed.
The company also recently announced its integration with Google, enabling hosts to automatically showcase their rentals and availabilities on Google Maps and Search, and amplify their visibility towards high-intent travellers without additional costs or commissions.