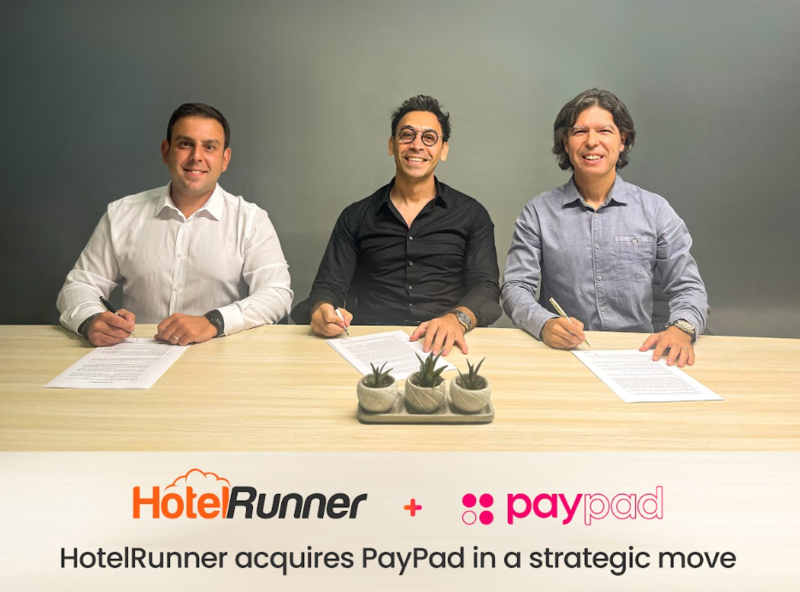 HotelRunner acquires PayPad to move into on-premise sales operations
New addition will fully integrate with HotelRunner PMS
Travel technology provider HotelRunner has announced its acquisition of PayPad, a "high-end" point-of-sale system.
The UK-headquartered brand will rename its new addition as HotelRunner POS, in a move that's said to cement its position as an "industry-leading all-in-one technology platform".
The seven-year-old cloud based sales system, which has a client base in the UK, Spain, US and Turkey, will fully integrate with HotelRunner PMS, to allow accommodations to manage their on-premise sales and payment operations.
Hoteliers can accept payments in multiple methods, analyse business and take AI-driven and automated actions for increased productivity and profitability.
The move by the technology brand is said to represent "a momentous shift" as it delves into on-premise sales operations for the first time, and will be its third acquisition.
Arden Agopyan, founder and managing partner of HotelRunner, said: "Our strategic acquisition of PayPad and the birth of HotelRunner POS aren't merely about enhancing our product offerings; it's a bold leap toward our vision of building a bigger travel economy.
"As we welcome HotelRunner POS into our expansive ecosystem as a foundational part, we solidify our presence in the payments and sales verticals in travel and hospitality.
"We're proud to shape the path toward industry consolidation and usher in a transformative era, reinforcing our brand's legacy."
Ali Beklen, founder and managing partner of HotelRunner, added: "With PayPad seamlessly integrated into the HotelRunner's unique market-network, we're spearheading a technology revolution that forms the cornerstone of a unified digital travel ecosystem.
"Beyond elevating the guest experience and optimizing operational efficiency for accommodations, this strategic move underscores the power of frictionless all-in-one platforms as the key to success. This acquisition unlocks a new untapped opportunity and sets a path to delivering unrivaled value and pioneering innovation for our partners."
Veysel Berk, founder of PayPad, said: "HotelRunner is democratising the use of technology for every player in the global ecosystem.
"As both teams share the same values, culture, and product principles, we are thrilled to join forces with HotelRunner and become part of its broad vision.
"PayPad, revamped as HotelRunner POS, will play a pivotal role in adding exponential value to properties worldwide, ushering in a new era of advanced sales solutions in travel and hospitality."
HotelRunner POS will be rolled out gradually.