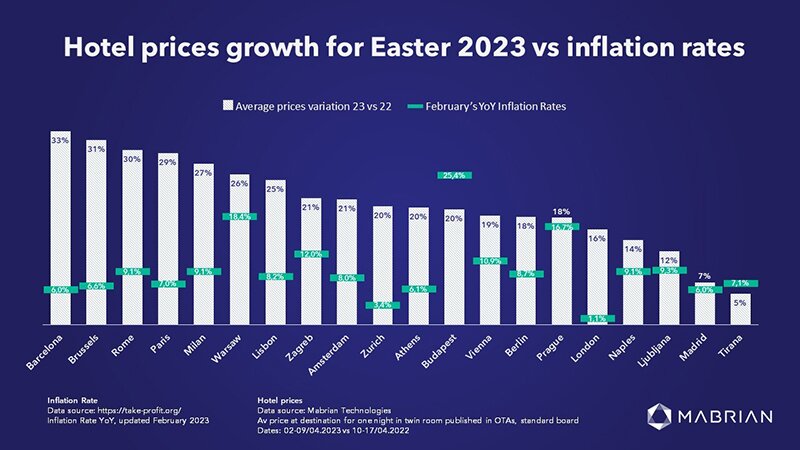 Hotel price rises for Easter are not just a question of inflation
Average prices are increasing far above the rate of inflation, according to Mabrian research
Mabrian has conducted a hotel price analysis of 20 destinations in Europe for this Easter holiday.
The verdict? Prices for Easter are on the rise across all categories and destinations analysed, except for Naples, Tirana, and Budapest – where the cost of five-star hotels have actually experienced a slight decline of 1%, 3%, and 5%, respectively.
The average price increase across all categories is significantly greater than the annual inflation rate – based on February 2023 published prices for a stay between the 10th and the 17th of April – for all destinations except Budapest and Tirana, where the annual inflation rate is higher than the average price increase for this period.
In general terms, Barcelona, Brussels, and Rome are the destinations with the highest increase in hotel prices, ranging from 30% to 33% on average. Meanwhile, Ljubljana, Madrid, and Tirana are destinations where the price increase is lower.
Mabrian also notes that Barcelona is the city where prices have increased the most compared to Easter 2022, with a 43% increase in three-star hotels.
In 4-star hotels, the highest growth is in Brussels, with a 34% increase. And in the most luxurious category of 5-star hotels, Paris stands out, where the average price is 30% higher than last year.
The company also notes that for the Easter holidays, Zagreb, Warsaw, and Tirana are the destinations that offer the most competitive prices for all three categories of hotels.
Carlos Cendra, director of marketing and sales at Mabrian, says, "While it is clear that hotel prices are rising sharply, we must look at this rise in the context of inflation and rising supply costs across the board.
"In addition, we have to take into account the increase in staff operating costs, due to the lack of manpower and the necessary improvement in conditions. All this is combined with a strong demand for travel during this period, which pushes prices up."