Big Interview: The magic behind Booking's 'connected trip' vision
Lee Hayhurst interviewed managing director at Rides by booking.com on "the connecting trip"
Lee Hayhurst spoke to David Adamczyk, managing director at Booking Holdings' Manchester-based ride-hailing brand Rides, who explained how the global travel giant is realising its  connected trip strategy.
The notion of connectivity has always been an integral component of the travel industry.
People connect with flights and other forms of transport which connect with each other so they can make connections with the people and places they travel to visit.
For many travel brands much of the technical work that goes on behind the scenes is in making sure these individual components of a trip do connect seamlessly together.
In the age of the world wide web, an additional form of connectivity has risen to prominence: the digital connection people have with the virtual world of the internet.
This is the opportunity that many of the major online brands are investing millions in developing platforms and user experiences to exploit.
And it explains why the biggest of the lot, booking.com, Rentalcars and KAYAK parent Booking Holdings, has started talking about how its future is tied in to the concept of the 'connected trip'.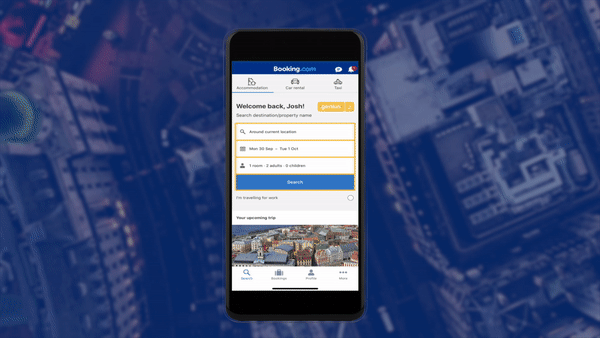 To many veterans of the travel sector, particularly those who hail from Europe, the home of the package holiday, the idea of the 'connected trip' might not seem all that revolutionary.
Travel brands have been creating connected components to form trips for the mass market since the advent of the package holiday in the middle part of the last century.
But Booking Holdings' vision of the connected trip takes the idea a stage further and forging a closer connection with the consumer is at the heart of what it is working to perfect.
Much of the work to connect the key components of the modern trip is taking place in Manchester, the home of Rentalcars, Rides,  and Booking's ground transportation hub.
David Adamczyk, managing director at Rides, Booking Holdings' on-demand ride-hailing service, says the vision is much more complicated than just bundling product together.
Understanding the consumer
Driving the strategy is the way the Booking brand connects with the consumer through whatever devices they are using to find the products and services they want right now.
"As a business we have been talking about the connected trip for a while now, but what it really means is different from how others are doing it," says Adamaczyk
"Where that becomes real is in the dialogue we have with the consumer. They're interacting with us at different times whether booking flights or hotels, within trip or after the trip.
"So, we have to have a website or app that can react with the consumer, that's responsive to where they are in the context of their trip and the reason for their trip.
"If we can capture that in the right way, we can offer the customer the most helpful product or service in the right moment.
"It's about understanding the trip and creating a dialogue back and forth with the consumer and making it truly meaningful. That's the magic fairy dust we are trying to create here."
Curated content
Booking Holdings has come to realise that between its various brands it has the potential to pull in the purchasable content to create the connected trip in one single consumer interface.
Latest additions to its portfolio have been in alternative accommodation rentals, restaurants with OpenTable, and attractions and experiences following the acquisition of FareHarbor.
It also has a tie-up with Grab and Didi Chuxing in Asia and public transport options are now available in six cities. Booking is working on bringing many more online.
In terms of a platform to pull in product and, potentially, to cross sell that to users Booking is evolving to become a full-service OTA and has been working on integrating its brands.
But the key to the connected trip strategy is maintaining and enhancing its connections to the traveller, not just in trying to flog them multiple products for a discount.
"It requires real understanding of the consumer and what they're doing," said Adamczyk. "You can't go out and experience the world unless you can get there.
"So, we need to be there at that moment to serve up the right transport option to the consumer at the right time, so it becomes so easy we're almost invisible, it's almost unconscious.
"Consumers want and need different things at different points in their trip. The set of decisions you make when booking a flight or are early on in you research are different to when you're in trip.
"Lots of customers book a hotel and flight at roughly the same time, but that's not the time when you are looking for a cab or a local bus service or thinking about what to do today.
"You might make a plan over breakfast and it starts raining at dinner time and you want to rearrange it. Given our scale we have a better chance of having comprehensive options open to consumers."
Booking's success of ts connected trip strategy will come from how successfully it maintains that dialogue with the consumer via their personal devices, so it has to be hyper-relevant.
Artificial intelligence experts in Tel Aviv are working on the algorithms that will beaver away behind the scenes to achieve this.
"Instead of offering 50 things you might want we will make it much more compelling. That way you get really high cut through and really high engagement with the product.
"We will create something much more dynamic and more personal and the more you do the less generic and more relevant it gets."
Competing through user experience
Booking's new CityBook app is an early example of how this connected trip interface will engage with users.
Recently launched for Amsterdam, Paris and London, CityBook aims to combine inspiration, planning, navigation and experience all in one place.
In this endeavour, Booking has plenty of competition, not least from Google as it enhances its Maps product to also become an in-pocket personal travel concierge.
Adamaczyk says Booking aims to be the brand of choice for travellers in terms of the user experience it offers, by making it as seamless and frictionless as possible.
Logged-in users can save payment details so pre-filled forms will make the booking and ticket retrieval simple and Genius loyalty members will be offered incentives to book.
And Booking will use its wealth of data be more predictive and proactive. "We try to pick times to communicate with the consumer when we think it's relevant to show them stuff.
"It makes consumers aware there are other products available on our platform. The second component is around value, so you should get more value over time.
"It could be through the Genius platform we offer special discounts on extra trip products, or as simple as, under certain circumstances, we offer heavy discounts on a ride or attraction.
"When you think about a trip, you want to be able to experience this place as if you are a local even though you're not. The sense that you could go around with your eyes closed."
Being global, Booking will also look to localise the experience and keep up with trends, like travellers' increasing desire to travel in a as sustainable a way as possible.
Connected trip versus traditional holiday package?
So, for Adamczyk, what are the crucial differences between the connected trip and the traditional package?
"Yes, Brits have gone out and bought package travel for nearly a 100 years. But it's been completely inflexible – you book it and it's done.
"Today you can book as much or as little as you want and then manage it on the fly. It's much more dynamic. It may sound simple, but it's really, really difficult.
He added: "We are okay with raising the expectations of consumers; we have been doing that for 20 years and need to keep on doing that.
"The supply is there, that's challenge number one. Number two is about the whole trip experience and personalisation.
"When is that done? It's never done, it's about making it better and better. All of this stuff will be materialising over the course of this year."