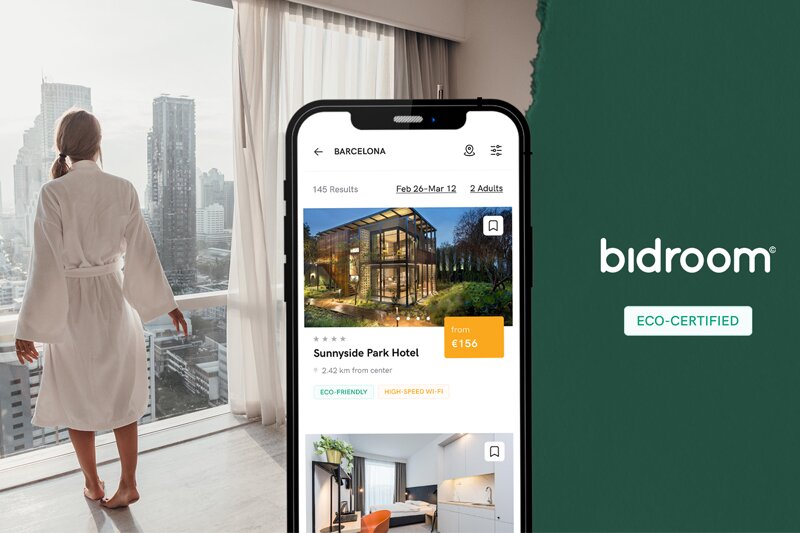 Bidroom introduces 'eco-certified' label for hotels in its marketplace
OTA has worked with the EU Commission, Green Globe and EarthCheck on accreditation
by Avery Ketcherside
Bidroom has introduced a 'eco-certified' label for hotels on its marketplace that have been recognised by independent bodies for their environmental and sustainable practices.
The membership-based travel marketplace partnered with the Green Key Award in April 2020 and has worked with eco-label initiatives from the EU Commission, Green Globe and EarthCheck.
Since last September, Bidroom has highlighted properties with the 'eco-certified' distinction on its platform.
Bidroom members can easily find hotels that reduce CO2 emissions, energy usage, water usage, and practice proper waste management, sustainable services, and are conscious of its use of pesticides under the property description.
The firm says it prides itself on being a business promoting travel sustainability and has been a long-time collaborator with climate tech company CHOOSE.
The company enables guests to calculate and offset their carbon footprint while they travel.
Michael Ros, chief executive officer and founder of Bidroom, said: "Awareness of and demand for sustainable travel has never been a more pressing topic – not only from the reopening of international borders this year, but also off the back of the COP26 summit in November.
"However, all industry research points towards travellers valuing sustainability but not knowing how to put this into practice or not having transparency about the choices they are making.
"I'm pleased that we are uniquely positioned at Bidroom to help our community and the planet through our eco-certification program.
"Signposting eco-credentials, backed by authentic organisations, can empower guests to make more informed decisions and ultimately build trust between them and suppliers in the hospitality industry.
"It's been encouraging to see other companies, like Google, also starting to do this in 2021 and no doubt there will be much more we can collectively do together in future."