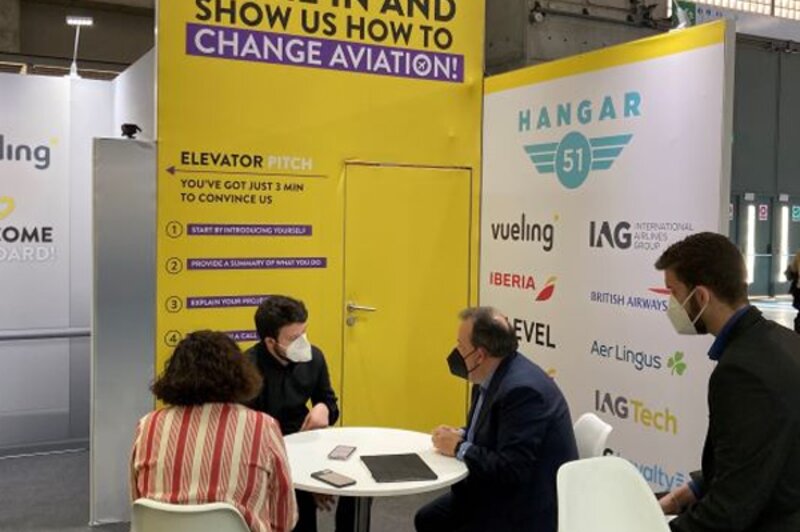 Vueling seeks out start-up technology partners at Mobile World Congress
BA sister budget carrier has its own Innovation Lab and supports Hangar 51 accelerator
Spanish budget carrier Vueling Airlines was putting technology start-ups through their paces at this week's World Mobile Congress in Barcelona.
The global trade show saw all the key mobile technology consumer brands and developers converge on the Spanish city for the first time since before the COVID-19 pandemic.
The Vueling stand was located in the 4YFN (four years from now) hall at the global trade show where start-ups from around the world were showcasing their tech.
The budget carrier, a sister brand to BA in the International Airlines Group, expected to sit down with more than a 100 individual start-ups over the four days of the show.
They were invited to record a short elevator pitch on the stand that will be reviews by IAG executives for its Hangar 51 accelerator, now in its sixth cycle.
The next cohort of the 10-week Hangar 51 programme are being sought to look at solutions related to sustainability and operational efficiency like smart buildings.
Vueling also works with Start-ups directly on research and development projects through its InnoLab which has seven domains it focuses on including: Hyperreality, Gadgets, Persona, ArchDevSecOps technology developers, Robotics, Sustainability and Information.
The carrier will focus on vibrant business tech communities in three Spanish cities including Barcelona, Bilbao and Saragossa to top into local talent and innovation.
Àlex Corretgé, head of innovation at Vueling Airlines, said large corporations needs to work with start-ups because they are more agile and see things from different perspectives.
"The main goal of the InnoLab is to connect with the start-up ecosystem. We want good relations with the start-up eco-system, to use its scale and it's a good way to benefit from the talent that exists in these businesses," he said.
Corretgé said Vueling was particularly interested in mobile technology like the 5G rollout and the coming 6G era that will support more of a connected multi-modal future for travel.
The carrier is also looking at providing in-flight entertainment services via customer devices. Currently it offers paid-for Wi-Fi but improved technology could enable it to drive more ancillary onboard sales through digital devices.
"After the pandemic, we think people will travel less than before, but when they travel they will spend more money and buy more ancillaries to be more comfortable," Corretgé said.
"For travellers it's important that information is ubiquitous and available to them wherever they go. In terms of mobile technology it's an exciting moment in history. When you look back only five years, it's hard to believe what life was like."