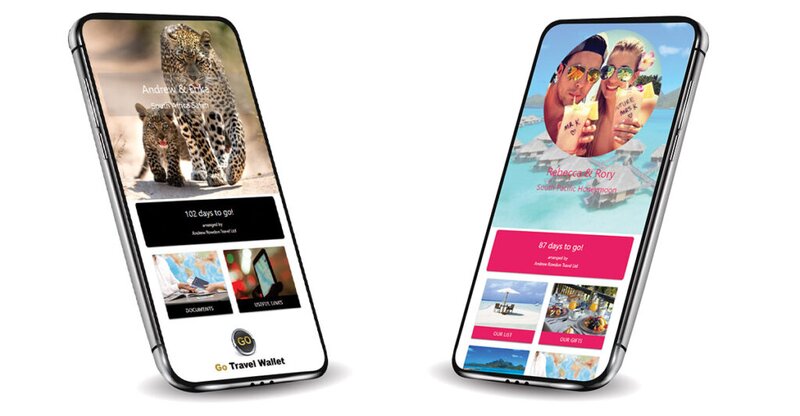 Travel agent promotes two apps developed with COVID small business grant
Homeworker Andrew Rowdon has built a wedding gift list service and a travel wallet
A travel agent is in talks with tour operators and travel agents interested in using two new apps developed during Covid to improve customer service.
Andrew Rowdon, director of Andrew Rowdon Travel in Suffolk, designed the 'Panndorah' wedding gift list app, a digital version of his existing wedding gift list service, and a broader 'Go Travel Wallet', an app holding client documents and information, after receiving a small business grant during the pandemic.
Rowdon, who has sold his wedding gift list service to agents since 2016, has been using the Panndorah app since April for his own business and last month launched it to third-party agents.
The new app is backed by a Travel Trust Association trust account which has meant customers' gift list contributions are held securely until being refunded to the customer once they have travelled.
Rowdon said the trust facility made payment and use of the app easier, adding: "Now we have a trust account the money is all held in the trust. It is financially protected."
A dozen of Rowdon's own clients have so far used the app and "loved it", he said. His honeymoon business is currently around 70% up on 2019.
Rowdon, a homeworker, added: "I am in talks with agents and trying to get them to sign up. I invested in this for my business but it would be stupid not to offer it out to other agents. Agents who have used the list before have said they want to use it."
Agents would pay a monthly £10 fee and charge clients £75 for the wedding list service.
The app allows couples to access and manage their own personalised wedding gift lists after booking their honeymoon.
They can send the list to friends and family, who can choose what to pay for parts of the trip – from excursions to room or flight upgrades – and send messages to the couple.
The couple is notified of contributions and can send thank you notes to guests and share thank you messages and pictures on social media. The app includes the weather forecast for the couple's holiday destination, maps, Foreign Office updates, and advertisements from wedding suppliers based in their area.
"Agents' clients can manage the list themselves which saves agents' time," added Rowdon, who developed the Go Travel Wallet for all bookings after the wedding list app and has done 70 bookings using it so far.
It is being offered to agents for a monthly charge of £25 for 100 bookings. It can be used by agents' clients for all trips to hold all their travel details digitally under one app, from their boarding pass, hotel voucher, invoice and Atol certificate to what Covid restrictions are in place and what plugs they need in resort. If new documents or updates are added, clients are alerted.
He added: "It's eco-friendly and efficient and means I am not spending money on postage. It's a simple facility which keeps clients up to date. The reaction I'm getting is phenomenal."
Rowdon is currently in talks with operators to offer the Go Travel Wallet to direct clients or other agents.