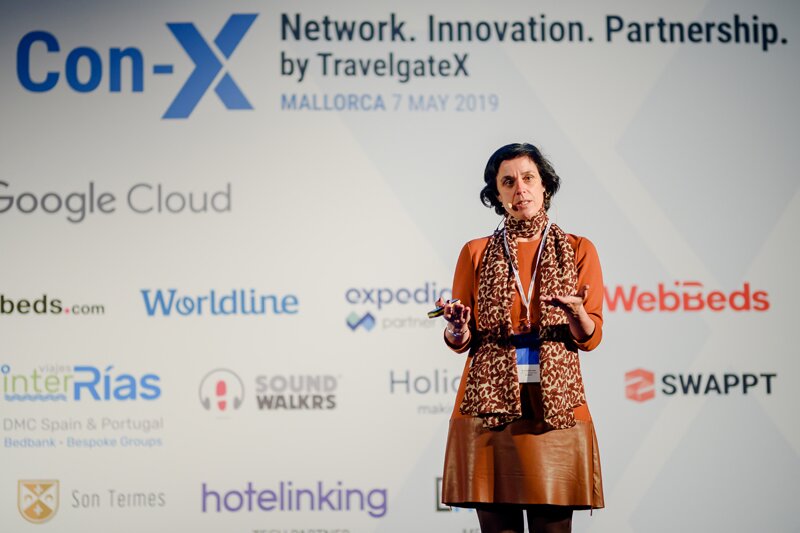 Con-X: Tackle back office blockages to unleash human potential, says Microsoft
AI and machine learning enable staff deployment to customer-facing roles, event hears
Travel firms should remove the back office blockages that prevent them unleashing the potential of their staff, Microsoft told the inaugural Con-X conference in Majorca this week.
Gloria Macías-Lizaso, enterprise commercial lead at the tech giant, told the event organised by XML connectivity specialist TravelgateX firms under-estimate the impact this could have.
She said machine learning and Artificial Intelligence have been deployed by Microsoft so it does not need an army of people carrying out "back-end" operations.
Instead they can be deployed in more productive customer-facing roles, and she urged this is a model that travel firms should adopt.
"I believe business process are what should be leading this approach, otherwise they become the stoppers of progress. We are underestimating the impact this could have.
"A lot of this [technology] is reality today. The problem is how we adopt it faster."
Macías-Lizaso cited the example of coffee chain Starbucks that installed 25 sensors in its US stores which increased efficiency and, as a result, customer service.
She also said Microsoft has been working with a cruise operator which has deployed a bot to identify and report problems that need addressing without any human intervention.
"A lot of this depends on how we are able to transform our employees, unleash their potential, make their lives easier so they can better dedicate their time to serve the customers."
Macías-Lizaso said this not only improves the customer experience  but it more efficient for the company.
"We are aiming at enabling you to capture all of this potential, all of this value in transforming the entire operations," Macías-Lizaso added.
"It's not just about the way you communicate with customers or manage bookings, the value is created when you connect all the dots from the front end to the back end."
Microsoft focusses on four areas in which it believes it can enable its clients: understanding customer needs, empowering employees, optimising operations and transforming product.
Macías-Lizaso said this will help travel firms move from selling a flight or a hotel room to selling an experience.
"By doing all of this we believe we can create the value and help us deliver on our mission. We believe our role is to empower every person and organisation to deliver more."