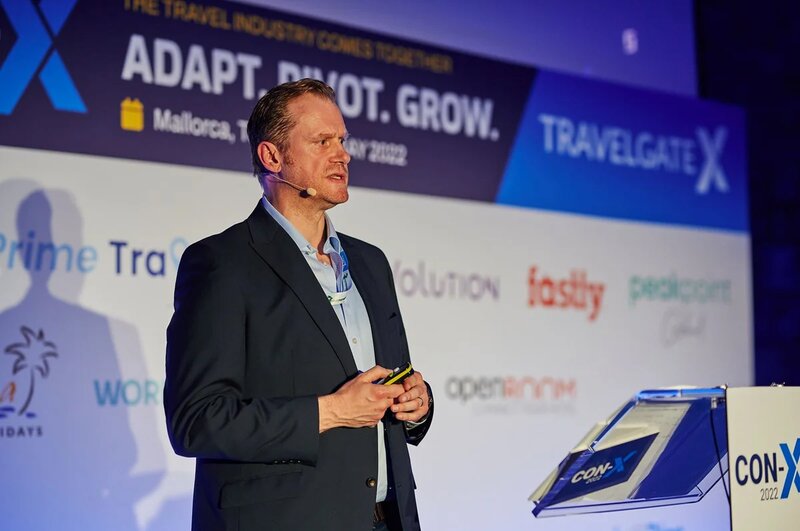 Con-X 2022: Technology is accelerating trends and the platformisation of travel
Siteminder's Jonathan Bedford addressed delegates on the need to Adapt. Pivot. Grow at last week's conference in Majorca
A rapid acceleration in consumers adopting the digitisation of retail is driving trends for travel companies as the post-pandemic recovery takes hold, Con-X delegates were told.
Jonathan Bedford, chief sales officer at global channel manger and hotel ecommerce platform Siteminder, said there is an "unstoppable march of technology".
With ecommerce globally projected to hit 25% of total retail following huge growth during the COVID pandemic, firms must embrace multi-channel, mobile and social.
Bedford said Siteminder "really had to live" the theme of Con-X – Adapt, Pivot, Grow – during COVID as it opened new offices, listed in Australia and launched a next-gen platform.
"We have had to adapt, pivot and grow to makes ends meet in terms of the complexities of the environment we lived in. We used these words as the bible within our business," he said.
"Ultimately we are focussed on our customers and our markets. Our growth is inseparable from adapt pivot and grow – these are the pre-requisites for growth. Transformational growth is forged in unprecedented times."
Bedford Siteminder is committed to supporting the travel and hospitality industry to be on a par with the retail and banking sectors to meet the demands of the omni-channel world.
He said the sector is recovering from "probably the hardest two years" in its history but continues to suffer from the challenges of staffing shortages and rising costs.
However, many markets, like Spain and Portugal, and the UK, France, Germany and Italy have recovered back to pre-pandemic levels and guest are booking with "greater confidence than ever before" with lead-in times increasing.
"That demonstrates that they have confidence in the market and no longer feel the urge to book within 24 hours because of market conditions. This is normalcy. Things have suddenly become stabilised.
"This normalcy has really arrived just as quickly as the pandemic and shows human nature really want to survive and thrive."
Bedford added: "Things will never go back to how they were. They are changing. What we are seeing is underlying trends accelerating in the marketplace.
"The market has accelerated because of the pandemic and brought in a sharper focus and urgency around these trends we are seeing. At the heart of this is shift is the unstoppable march of technology."
Market trends are seeing greater expectations among consumers of seamless, frictionless experiences in a more complicated multi-channel ecommerce environment.
Bedford said this is seeing consumers use more sites and channels when shopping for travel and prioritising a better mobile experience while social media is playing an increasing role.
"Many accommodation providers globally are behind the curve when it comes to consumer expectations.
"Many are focussed on staff shortages and day-to-day operations of the business but are neglecting the consumer.
"Hotels are looking to leverage technology to give a better experience to their guests. We have also seen a diversification of channels guests look to book from.
"We have seen a real diversification of how properties like to connect to the marketplace. At the heart hotels need to evolve to meet guest behaviours.
"We as a technology provider must help them provide better, visible, stronger marketing with better conversion rates and higher guest satisfaction and advocacy and the return of customers every single year."
Bedford called for a vision for the "platformisation" of the industry, which he described as being in its infancy, to place future prosperity into the hands of hospitality providers.
"Platformisation allows you to think about the eco-system beyond your own products and services and your partners' products and services.
"There's still an opportunity to grow within our platforms and within our businesses but we need to have a vision for it. We need to forge our own future for transformation."