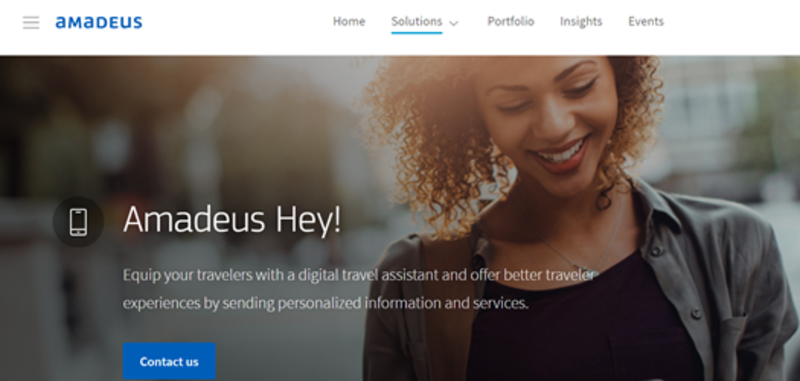 Allianz Partners becomes first to integrate Amadeus Hey! travel assistant
Digital assistant tech developed to deliver key information and 'bring back the joy in travel'
Travel assistance and insurance services provider Allianz Partners has become the first partner to integrate Amadeus Hey! APIs into its travel booking platform.
The GDS and travel technology giant's technology helps firms to service customer needs by delivering accurate and detailed information on travel advice, rules and regulations.
Allianz Partners will integrate it into its Allyz one-stop-shop travel platform that offers services from a variety of travel partners in Spain, France and Germany.
Amadeus Hey! acts as a digital travel assistant within Allyz and provides travellers with personalized and real-time trip information and services such as flight delay, gate change or baggage carousel number.
Its bespoke business rule engine orchestrates travel-related messages and?pushes them to the traveller via Allyz.
It also serves as a 'wallet' for travellers, where they can retrieve or upload their trip details and find consolidated information in one place and receive automatic notifications.
Lydie Hippon Darde, global head of the new models unit of Allianz Partners, said, "We are excited to roll out Allyz with Amadeus Hey!.
"This solution allows us to increase engagement with our customers by providing contextualised trip information and services to customers before, during, and after the trip.
"Amadeus Hey! gives us the ability to deliver meaningful and differentiated services, all in one place, that make customers' lives easier."
Marion Mesnage, head of Nexwave, Amadeus, added: "Providing the right information at every step of a trip is a key element to increase travellers' confidence.
"Our solution helps Allianz Partners to assist its customers when they are travelling, delivering key information right when they need it. Travellers will feel cared for throughout their journey, which will help to bring back the joy in travel."