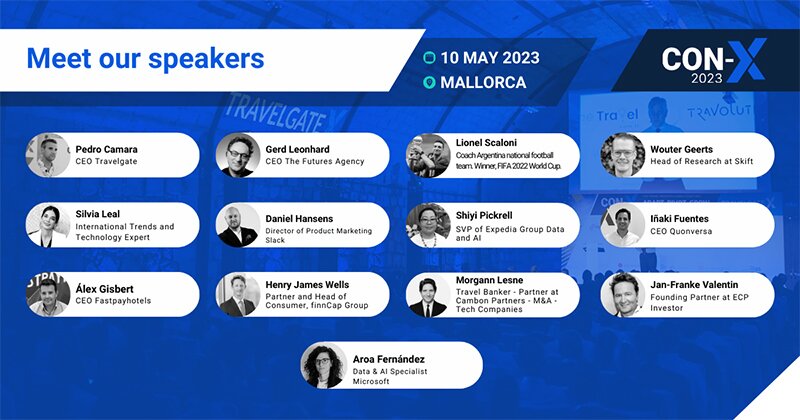 CON-X 2023: EUROPEAN INVESTORS TO REFLECT ON WHICH TOURISM BUSINESSES WILL BE SUCCESSFUL IN THE COMING MONTHS
Panel of experts will discuss mergers and acquisitions in the travel industry
The CON-X 2023 conference will feature a thought-provoking panel of experts including Henry James Wells (finnCap Group), Morgan Lesne (Cambon) and Jan-Franke Valentin (ECP investor) who will focus on the current state of mergers and acquisitions in the travel industry, and the types of businesses that are expected to thrive in the next 18 months.
The panel will be moderated by Alex Gisbert, CEO of FastPay, and will explore topics such as the types of businesses that will succeed in exiting, growing or merging in the near future, as well as the types of businesses that investors and brokers are avoiding. The panel will also provide valuable information for business owners planning to sell their businesses in the coming years, including the key performance indicators (KPIs) they should focus on.
In addition to the discussion, the panel will also feature a one-word rapid-fire answer round on key industry topics including ChatGPT, bedbanks, parity rates, retail, artificial intelligence, B2B travel, marketplaces and big data.
Mallorca will once again be at the centre of the global B2B hotel distribution landscape thanks to Con-X 2023.
On 10 May, more than 350 executives representing the most influential companies in the hotel distribution industry will attend the conference to discuss new technological trends in the market and the use of artificial intelligence; its personalisation and depersonalisation.
"Uncut: Now it's personal" opens the door to inspiring personal experiences that have succeeded against all odds in other areas.
The speakers at CON-X 2023 will share how they have gone on to build strong businesses and achieved many of the things that company executives aspire to.
"We are in the hospitality industry and our business is to make people happy, to enable them to create memories that last forever. This conference is the perfect opportunity for all of us to connect as people, to really get to know each other in an informal but professional environment and, like our customers, build bonds that will last forever," explained Pedro Camara, responsible for the organisation of CON-X 2023.
The last two editions of CON-X were attended by more than 20 speakers from all over the world, more than 40 sponsors and more than 700 participants from all countries, generating more than 2,000 business meetings in a single day.