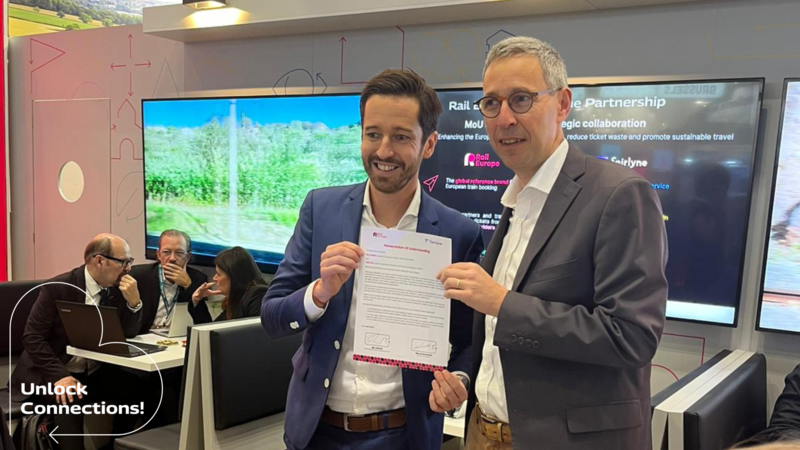 Rail Europe announces strategic partnership with Fairlyne at WTM London
The firms signed an MoU at the event
European train tickets search engine company Rail Europe and Resale-as-a-service startup Fairlyne have announce a strategic partnership based on the signing of a Memorandum of Understanding at World Travel Market (WTM) London this week.
This collaboration sets the stage for a future-oriented and discussions on the opportunities of a ticket resale platform for Rail Europe's customers.
Fairlyne's platform, designed to compensate resellers in vouchers, aligns with Rail Europe's vision of creating a "convenient and sustainable" rail travel ecosystem.
While Rail Europe specialises in selling European train tickets and passes globally, Fairlyne enables travellers to resell or acquire second-hand tickets during peak travel seasons.
Gilles de Richemond, CEO and co-founder of Fairlyne, said, "We are excited to collaborate with Rail Europe, a company renowned for its dedication to excellence in rail travel. Our joint aim is to ensure greater convenience and accessibility for travellers."
Björn Bender, Executive Chairman and CEO of Rail Europe, said: "Every year, hundreds of millions of euros worth of train tickets remain unused.
"This partnership with Fairlyne marks a pivotal stride in our mission to establish a more sustainable travel landscape.
"It underlines our ambition to continuously improve the mobility ecosystem for our customers, together with innovative partners, and to think outside the box in terms of new solutions.
The companies will soon announce the detailed first steps, products and improvements designed to enhance the European rail travel experience.