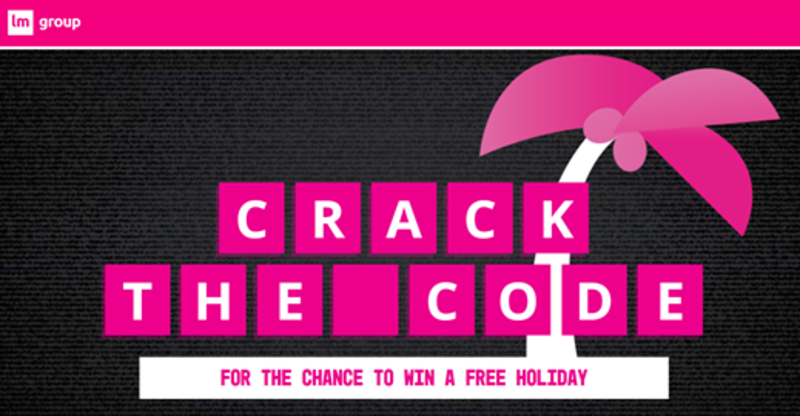 Lastminute.com launches 'crack the code' recruitment drive for 100 'techsperts'
Six holidays up for grabs to April for applicants who can decode riddle in virtual check-in process
OTA lastminute.com has launched a three-month recruitment drive for technology talent with a special coding challenge for prospective candidates to crack.
The firm is looking to recruit 100 "techsperts" globally with expertise in software engineering, cloud, front and back-end development and product and platform building.
As part of the process six holidays worth up to €500 are up for grabs for candidates who successfully 'Crack the Code' as part of the application process.
Gamification of the job hunt will see candidates de-code a riddle to find a hidden sentence in source code of a virtual terminal that reflects the usual holiday check-in process.
Those who succeed to the end of April can then apply for their chosen role.
Lastminute said the campaign has been designed to highlight the benefits of working for the brand and in travel as the sector faces a battle for the best digital talent.
It says the recruitment drive is the biggest in its history and comes as sales of package holidays have returned to pre-pandemic levels, up 45% on 2019.
The new recruits will double the development team at lastminute.com which reaches 60 million consumers via digital platforms worldwide every month.
Corrado Casto, chief technology officer, said: "This fun-but-challenging recruitment mechanic will reflect what work is really like for 'pink people'.
"We operate in a fast-paced high-traffic environment where our agile tech teams solve complex problems and new challenges every day, so it's an ideal way to find out who might be a good fit for the company.
"The travel industry is a hugely exciting place to be for those in tech – it's constantly moving and the recent confidence displayed by UK consumers to book holidays means we have more opportunities than ever to offer an enviable, educational environment to develop careers in this area.
"We're excited to see who's up for the challenge and welcoming those who join our adventure."
Following the pandemic and due to employee feedback lastminute.com has initiated a fully flexible working policy, with 100% remote contracts that also offer opportunities to connect in person or work abroad if desired.
It is also offering perks such as a shorter working week, and dedicated 'No Meeting Days', to focus on personal learning.
As well as career development opportunities and training, successful applicants will also have access to a special employee travel site with exclusive discounts on bookings and travel insurance.