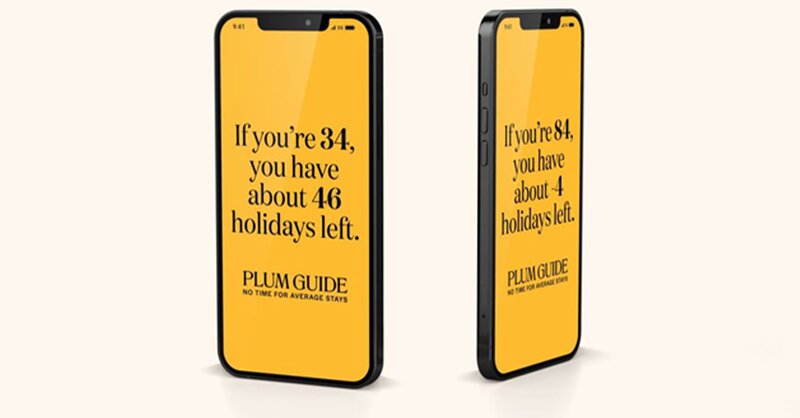 Plum Guide aims to eradicate disappointment with 'No time for average stays' campaign
Online curated homes platform urges holidaymakers to make every trip they have left count
Curated holiday homes collection Plum Guide has unveiled its latest advertising campaign urging holidaymakers to reject average stays and make every trip count.
The scourge of disappointing holidays campaign was devised by agency Stink Studios under the tagline 'No time for average stays'.
It reminds viewers how important holidays are and why it's so important to reject bad ones because lifetimes are not infinite.
The campaign, which launches on June 14, does not pull its punches, calculating how many holidays people are likely to go on before they die.
Ali Lowry, chief brand officer at Plum Guide, said "Holiday disappointment is all too real.
"60% of customers feel let down with their choice of holiday accommodation and 90% feel that they should have done better.
"Our new campaign is a punchy reminder to make every holiday count because, who knows, it could be your last."
Plum Guide claims to "eradicate disappointment" by providing a curated collection of the world's best homes, vetted by critics through a Home Test that collects more than 500data points on each one.
The platform provides verified listings written by experts, with "boldly transparent" home truths, and a personal matchmaking service connecting guests to potential homes.
Cameron Temple, executive creative director at Stink Studios, said: "In a busy market, against some big players, it's essential to stand out.
"We had to create something provocative, memorable and simple, and the best way to make a name for representing something extraordinary is to make an enemy of average.
"Plum Guide have been constantly pushing to do exactly this, challenging the work to be as cut through as possible."