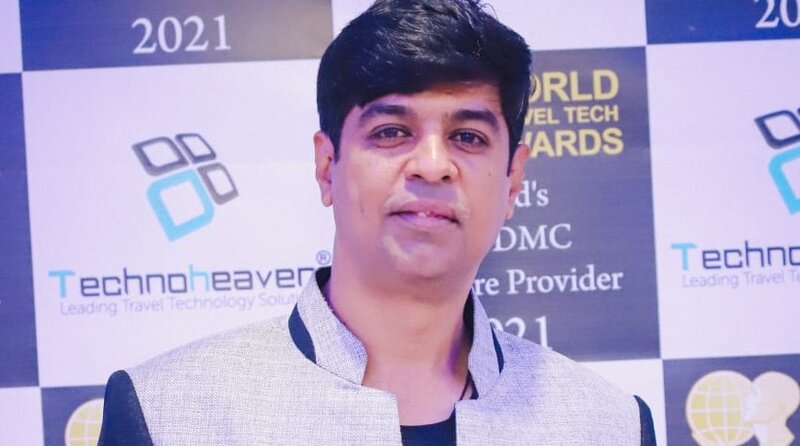 Guest Post: Customer experience will drive loyalty after the 'revenge travel' boom
Technoheaven's Vinod Kelwani says travel must prepare for after the post-pandemic honeymoon period by embedding exceptional customer experience
Vinod Kelwani chief executive of Technoheaven says travel must prepare for after the post-pandemic honeymoon period by using technology to embed exceptional customer experience 
Travellers are by and large extremely tolerant people.
Travel sanctions imposed by governments around the world, vaccination passports, the additional cost and inconvenience of PCR testing have undeterred people from packing their suitcases and heading off.
Some call it 'revenge travel', others call it wanderlust but whatever the reason, despite the incredible number of hoops they have to jump through, people are ready and eager to travel again.
And it seems with little regard to the price. A recent McKinsey survey reveals that when it comes to leaving the confines of their house travel is the second-most-desired activity among respondents, second only to dining out.
In the US air travel continues to rise, with hotel reservations and rental-car bookings surging. It's what every hotel, car rental company, holiday rental etc has been waiting for.
Of course, we're not there yet and while some markets such as North America are showing strong recovery performance, many Asian countries are far more cautious about opening their borders and still have a long way to go.
You'd think that having waited so long to get back on the road and booked into a hotel, travellers would place less importance, at least in the short term, on customer experience.
On the flip side you'd think that travel businesses would be going out of their way to ensure people have an amazing experience from start to finish. It seems not.
A recent report by McKinsey found very mixed signals when they assessed the current traveller experience.
Customer satisfaction rating analyses show many travellers are satisfied with their experience, which is good news, but it seems that negative sentiment is on the rise.
Operational capacity is strained, there are staffing challenges, airline complaints have risen and rental cars are hard to get. Add to that the fact that hotel amenities and services remain substantially reduced.
There is a contradiction between performance and satisfaction and as travel volumes increase there is potential for a new wave of customer dissatisfaction.
We are still very much in the honeymoon period and customer loyalty is there for the taking in the long term if travel businesses, particularly hotels, get this right.
Whether it's greater digital parity or faster turnaround, customer expectations have shifted and COVID accelerated these trends, but travel companies that prioritise customer experience can gain loyalty, and future-proof their businesses.
Understand your customers and their brand experience
There will be new preferred destinations, new types of travel coming into play and new booking processes.
Without the right tools it can be difficult to evaluate how customers feel about your brand's customer experience as a whole and without this insight it'll be difficult to take advantage of the return to travel.
For hoteliers, now is the time for a critical reset to address their crucial role in the overall customer experience.
There are four important steps that hotels will need to follow to deliver growth, loyalty and continued success.
A knowledge and understanding of customers
A genuinely personalised customer experience.
A supporting technology platform and data infrastructure
Exceptional service and communication throughout the whole experience
The hospitality industry needs to build additional trust by creating a customer experience across each touch point that is consistent, relevant and delivered with empathy.
Only by meeting these requirements will hospitality businesses earn the customer loyalty they need to succeed in the long term.
What I mean here is an experience that transcends across all channels:  apps, websites, live support, inbound and outbound mail and so on.
Alternative payments such as bank transfers, local card schemes, cryptocurrency and e-wallets provide the convenience and security travellers want.
These tech changes will need to work with other operations like booking engines, itinerary builders and commission tracking.
CRM (Customer Relationship Management) platforms have been designed to fulfil these experiences and deliver applications that support the administrative and data requirements to do so.
Now is the time to adapt and innovate
Hotels that thrive will be those that deliver on customer experiences. This requires an understanding of the shifts in dynamics, the problems customers may be facing and the ability to move quickly to address them.
CRM systems provide hotels with the opportunity to deliver an exceptional customer experience needed to succeed and deliver a service that creates loyalty and builds trust.