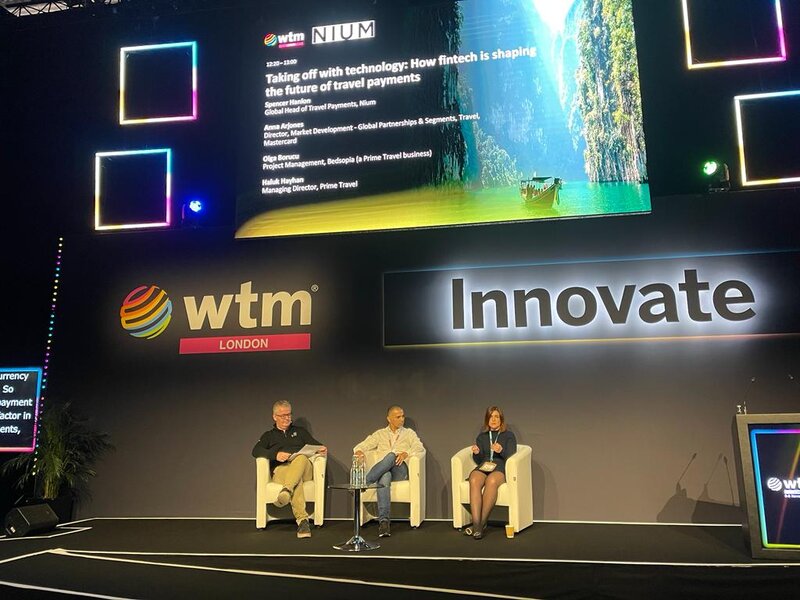 WTM 2023: Virtual credit card model 'won't be slowing down anytime soon'
There are four major reasons why it is 'so effective'
Last week at World Travel Market (WTM) London, how FinTech was shaping the industry and the future of travel payments was an eagerly anticipated discussion.
Spencer Hanlon, global head of travel payments of Nium led the discussion and was joined by Anna Arjones, director, market development - global partnerships & segments, travel of Mastercard, Haluk Kayhan, managing director of Prime Travel.
Hanlon outlined that there were four major reasons why virtual credit cards (VCC) and the model is "so effective in our industry".
He said you get reward and a return as an intermediary as well as a cash flow benefit.
"It's possible by making use of virtual credit cards, especially in the hotel space, where you're actually consuming the goods for some part of the distance to be able to sit on the cash a little bit longer which is advantageous to your business model."
The third is treasury, that you want to be able to spend the money in the currency you want it and to keep it as local as possible because everything else deteriorates marginally.
Finally, the VCC model gives you the ability to get your money back if things do change, when you don't get what you expected, so you can give back to your customer.
Hanlon said: "Those are the four key things have been driving a penetration of virtual credit right into the industry, and I don't see it slowing down any time soon.
"I believe for total VCC penetration in our industry across our air and hotel is somewhere $200 to $300 billion worldwide.
"The expectation is that we should get to $500 billion within a fairly rapid pace, especially as we start to see the growth in Asia Pacific and LATAM.
"I estimate that in 2025 we're going to start to see the $500 billion number thrown around."
Arjones agreed with Hanlon. She said that the top three reasons she thinks affecting demand and volumes for VCCs growing is treasury, is speed and unreliability of other forms of payments and it's the need to be able to get paid in local currencies but to accept as many currencies as possible so it's not as expensive.
Hanlon warned that he doesn't think it's the only solution. He said: "I don't think VCC is the answer to everything.
"There are a number of ways you can pay a business in another country for a goods or service that you're only buying once or twice at some point in the future, and that could be cross border payments, into their bank account, into their virtual IBAN, and I think these sorts of collaboration are going to make it a lot simpler."