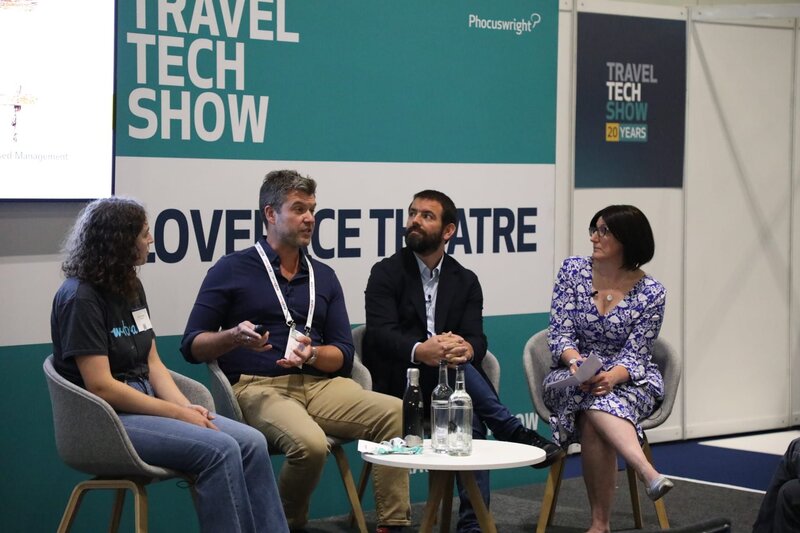 Travel Tech Show 2023: Payments and customer experience among opportunities for businesses
Opportunities include add ons and payment flexibility
A panel at Travel Tech Show last week highlighted the opportunities pertinent to travel business.
ETOA's director of Insight Rachel Reed led the discussion on where the prospects remain for the rest of the year and how can travel tech help you to capitalise on them.
Reed was joined by Alejandro Gomez Losada Rosso, VP commercial of Holibob, David Scott, chief commercial officer of Open Destinations and Jamie Albert, partnerships coordinator of WeTravel.
Scott, Open Destination's CEO shared feedback on what their travel customers are worried about which can help identify areas of need.
He said: "Worries about GDPR came up quite a lot and the need to move to SaaS products as well as finding the right staff continues to be a challenge for organisations.
"With GDPR, how do people use customer data, how are they managing it and how are they controlling it. People are just more aware that they own their data.
"Lots of people are talking about this but how do you incorporate AI into your technology in a way that really benefits your customers.
"We're worrying about data security and I'm sure everyone else is as well. We're worried about all the ransomware attacks we're seeing happening everywhere. This is a concern for us.
"We're also really focused on getting our customers into the cloud, giving them that flexibility they need and for some of those legacy businesses it's a pretty challenging thing to do.
When talking about tech innovation that enables operators to thrive, he cited growth, expansion, retention, automation and AI, digitisation and cost-based management.
Reed quizzed the panellists on payment trends for businesses in travel, Albert of Wetravel said: "One thing we found in our report was travellers are asking trip organisers if they can pay in more installments than they might have before the pandemic.
"We saw that four installments is actually a very common number. Sometimes even more than that.
"We saw that as an expected trend for 2023 and we're still seeing that with clients and companies we work with now we're halfway through.
"We also see with clients that we work with that it's no longer a nice to have, to offer flexibility based on the country that you're travelling from.
"If you have travellers coming from other countries, they expect to in a way that's easy and convenient for them.
Albert added that when it comes to customer experience, user experience is "everything" with trip organisers want to be able to offer add ons which they don't see the need for going away any time soon.
Holibob said their bread and butter is "trying to put the right product through to the right person at the right time".
Gomez Losada Rosso advised that while add ons are good for customer experience, they also provide opportunities for business.
He said: "If you think about margins then experiences allow you to have much higher margins than hotels and flights so there is a lot of opportunities to produce sustainable revenue generating models for those products."