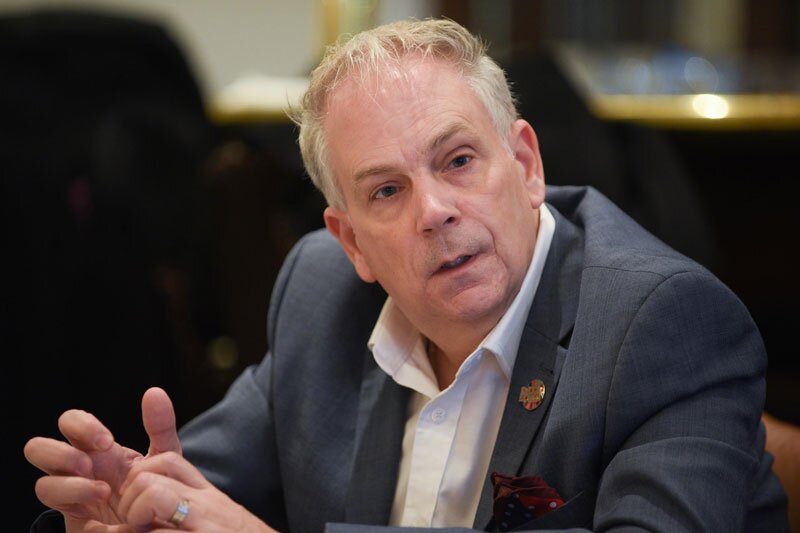 Global Resilience Council: Tech, partnerships and innovation are at the heart of resilience
Experts discuss decade ahead at the Global Travel and Tourism Resilience Council in London
Technology and partnerships can be at the heart of how tourism destinations manage their visitor economy and improve resilience in the face of crises.
A panel of experts from technology partners discussed the technological innovation likely in the next decade the Global Travel and Tourism Resilience Council in London last week.
Robin Ingle (pictured), chairman and chief executive of Ingle International, which has developed the Travel Navigator app that provides travellers with in depth, real-time advice and information, said:
"I love technology because it's an enabler. Partnerships are the future of travel. It's about working together; you can't be in a silo or separated.
"We've looked at how we can combine finance, telecoms, insurance, chat, two-way communications with individuals.
"When there is an emergency, we can communicate with that individual in a digital way and a physical way and can help them immediately.
"Travel is ultimately safe. Travel one of the safest things you can do. What we have to do is make sure that people understand that.
"Countries and cities are resilient, they come back. One reason is they have no choice. They have to come back."
Diana Munoz-Robino, senior vice president enterprise partnerships at Mastercard, said it is a technology and data firm working with destinations to understand their tourism business.
"What is going to surprise us in the next ten years is how technology is going to go in our lives without us knowing. Machine learning or AI is going to be running behind the solutions in travel.
"Technology makes us resilient, safer, faster. Mastercard is a tech company, not a credit card company. We are part of travel and tourism industry.
"We want to connect people and businesses to priceless experiences delivered by seamless technology in the background.
"AI, machine learning, biometrics, contactless, wearables to make your journey faster, facial recognition when using an app. This is how tech will touch your life every day and any time.
"Innovation in next ten years going to come from the quest of bringing the safety and convenience to our lives."
Munoz-Robino said the "future is here today" and Mastercard is deploying technology to enable cities to understand visitors flows and distribute funds and emergency aid during crises.
Tobias Wessels, chief commercial officer of Bespoke, which provides bots to airports and destinations to communicate with travellers on the ground, said:
"Emergency monitoring is a big unsolved question. It's not about quantity of information, it's the speed which emergency responders need to act.
"The sooner you receive the information the better your response will be. Destinations want to have the customer interaction.
"Many of the big entities in travel like hotels or airlines have that. But the City of London doesn't know who is here. The same is true for all governments.
"There's a vacuum of information. There are lots of people in a destination, but no information."
Wessels said Bespoke's simple user interface with minimal buttons makes it simple to use and as a result some clients have seen engagement rates as high as 70%.
Tony Smyth, senior vice president corporate development at iFree Group said the emergence of 5G, super-apps and hyper-connectivity will encourage a sharing of experiences and information.
"Travel a very human experience and it's all about experiences. And communication is all about sharing those experiences. People who aren't part of this today feel withdrawn.
"Facebook has evolved into something completely different. Super-apps are going to condense everything onto one platform. It's all about partnerships, we don't need to do it all ourselves."
Smyth said he expected 5G to be more beneficial for the internet of things and machine to machine communications.
"In crisis situation, we may be able to deploy remote contact centres, track emergency personnel or injured people."
And he said in Hong Kong, where he lives it is clear the authorities were not prepared for the recent disruption caused by pro-democracy protests.
"Resilience is not just about rebounding, but it's about being prepared. Hong Kong wasn't prepared.
"I recently read a great quote in the Economist: Tourism is a surprising resilient industry, but only if governments want it to be.
In Hong Kong year-on-year visitor numbers are down 40% to 50%, hotels are suffering, they are losing jobs in food and beverage industry.
"Frontline staff have no crisis management training. There is no interdepartmental communications between hospitals, fire and police."
Ingle added: "We have to remember that we are a simple species, even though we have all this complex stuff around us. We need the basics: safety, food, to live in a house, and family.
"We have to be conscious of how technology is delivered. We have to look at people as real humans who we have to talk too. Travel is a very human industry."