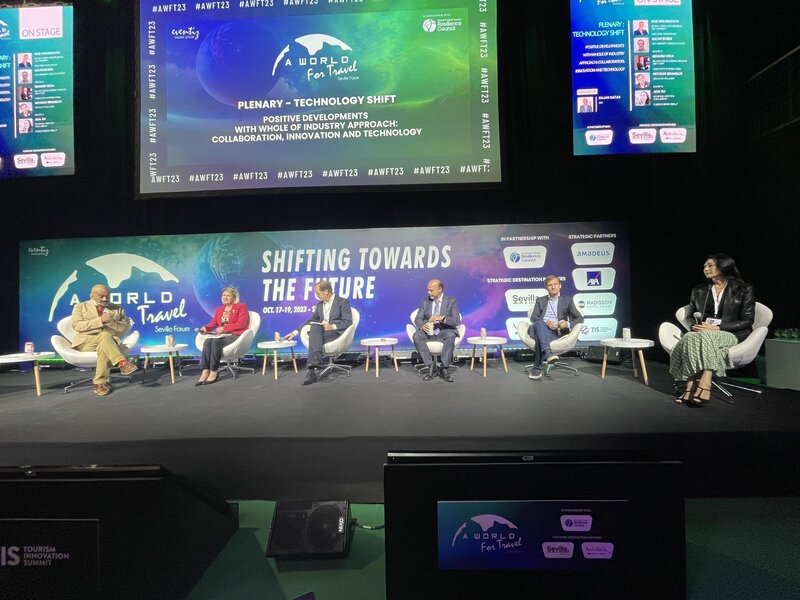 AWFT 2023: Digitrips says technology is crucial to shift climate mindset
Transparency is also a key enabler in tackling consumer attitudes
Nicola Brumelot, CEO and co-founder of Digitrips spoke at the A World for Travel event last week in Seville, where he shared that technology is "crucial" in shifting travellers climate attitudes.
The event which is held alongside the Tourism Innovation Summit 2023, saw Brumelot speak during a panel discussion moderated by Rajan Datar, journalist of the BBC.
Panellists also included Lucas Bobes of Amadeus, Inge Huijbrechts of Radisson Hotel Group, Ada Xu of Fliggy, part of the Alibaba Group and Ibrahim Osta of Chemonics International.
Brumelot said: "When it comes to climate-conscious travel, passengers are still on a learning curve. Technology plays a key role in shifting their attitudes."
He argued that while many passengers are now conscious of their carbon footprint, the industry is still in the "raising awareness" phase.
"It is our responsibility as technology providers to enlighten passengers about why and how they should factor in sustainability when travelling.
"This must start with fully informing them about the ecological effects of flying. Only by doing so can we nurture climate consciousness and ensure climate protection initiatives continue to flourish.
He added: "Secondly, we must be clear and transparent with passengers about their own carbon footprint.
"By using third-party data to show how each flight proposition performs against the average CO2footprint of all propositions on that routing, we infuse sustainability into the customer's decision-making process."