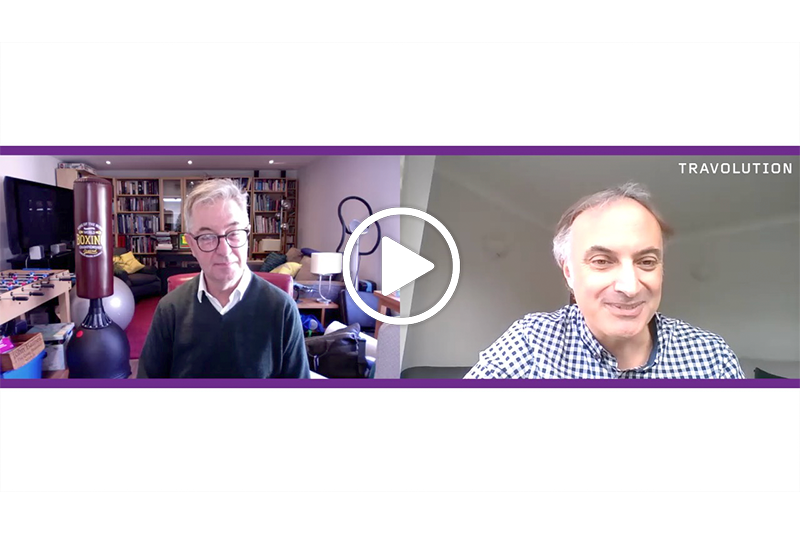 Travolution Webcast: Brands that offer digital 'test drives' will address consumer fear
Somo Global's Nick Hynes says COVID-19 means travellers need a reassurance they can't find online
Travel brands have been urged to embrace technologies that give people an experience of their holiday before they travel to reassure them before booking.
Speaking to Travolution in a recent webcast, Nick Hynes, co-founder and chief executive of digital agency Somo Global, said fear will be a part of people's mindsets post pandemic.
And he said with the changes happening in the high street, travel brands can be part of an evolution that will give consumers more reasons to come back to town and city centres.
Hynes said the COVID-19 impact on people's lives has placed the focus on more local situations, whether in work or leisure, and this will result in a more distributed population.
"We will be increasingly comfortable to work with folk in different times zones and different geographies. That will become the working norm," he said.
"And that will feed into the way we see the world in every aspect of our lives. People will become more accepting of participating in an event or experience digitally."
---
---
Hynes said while the pandemic has on the one had expanded people's horizons digitally, on the other it has forced them to behave more locally offline.
And he said for travel firms looking to sell experiences to customers this is an opportunity to offer the sort of reassurance they will be looking for.
While he does not believe virtual reality will ever replace the actual experience of travel, Hynes said it will provide brands with a differentiation to what consumers can discover themselves online.
"Nothing's going to compare to actually walking up the steps of an Aztec temple, or seeing the view from the top of a Himalayan mountain. Zoom's not going to help you with that.
"I think the high street is going to change. I think that which has happened was going to happen anyway but it's just been concertinaed into a few months or years.
"Anyone what wants to sell expertise, judgement or knowledge rather than just data should be expanding their digital portfolio so when people come in speak to someone they are offered some experiences.
"Have that knowledge and experience, mixing offline and online together in a unique combination which people have not experience before.
"It's not a replacement [for travel], what it will do it aid your decision making. It's like selling cars; put bums on seats and people buy.
"Out of three test drives one will by that car, it does not matter if it's a Rolls Royce or a Kia.
"Looking for ways to take away fear and uncertainty, I believe, will become a much more common way of buying things.
"There's a shift away from using travel shops for data points. You can get all of that online but what you can't get is judgement and guidance, comparisons and wisdom.
"You can get conversations like that online, but it's more difficult to experience. Be imaginative around reasons to engage with the consumer and bring travel alive."
Hynes added expertise has become more valued due to the pandemic: "I'm not sure everyone has understood just how much fear has become a part of everybody's lives.
"It has been a government tool to try to protect us from doing the wrong things during the pandemic and that fear level is here to stay for quite a long time. It's not going to disappear overnight.
"So I think reassurance is incredibly important and you are not going to get that purely by reading an article online.
"Most people will get it from talking to people either they know or are like them or from the same sort of area.
"In a few month's time we may have great lovely places to go to but there will be a large chunk of the population reluctant to take the risk and they need guiderails to say how they should be approaching this."
Hynes is the former chief executive and founder of Overture Europe and Searchworks, which he sold to Yahoo! and TradeDoubler respectively.
Before that he made his name with BA where he turned around its loss-making Airmiles loyalty scheme business. Now he runs Somo, which he co-founded in 2010 with business partner Carl Uminski.
Hynes will be speaking at this year's Travolution Summit, due to take place on September 30 at the Kia Oval in London.