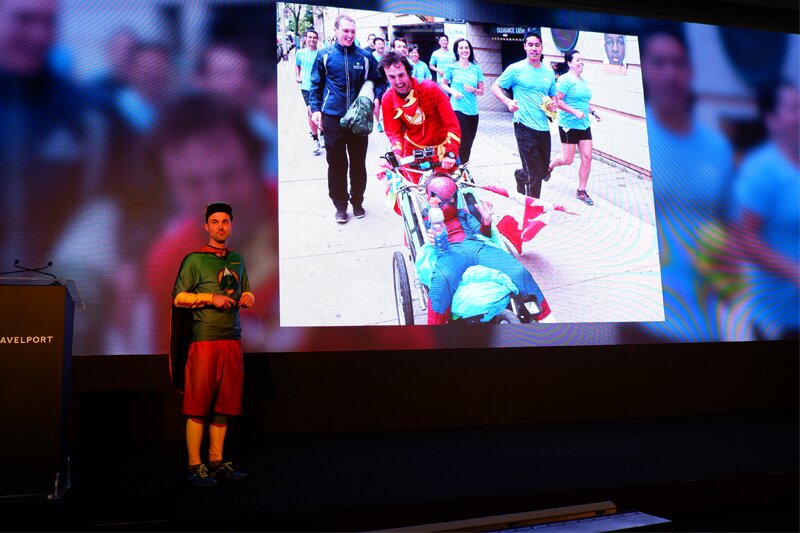 Big Interview: Travelport's next adventure will put its tech to the test
Marketing chief Jen Catto told Lee Hayhurst why it's important to understand the mindset of the traveller
Travelport will put its technology to the test in the next phase of its marketing campaign for its next-generation travel retailing platform.
Travelport+ was launched last year as part of a radical 'Change Is For The Brave' rebrand for the company overseen by new marketing chief Jen Catto.
Having achieved widespread buy-in from Travelport employees around the globe and a remarkable degree of virality for a B2B marketing, Catto is now planning a further push this autumn.
This time Travelport will team up with Jamie McDonald, the British adventurer and self-styled 'Adventureman', who ran 5,000 miles across Canada, doing the equivalent of 200 back-to-back marathons.
McDonald spoke about his journey of going from a nine-year-old who thought he would never walk again to an endurance runner at the recent Future of Travel Retail event Travelport held in Dubai for trade partners.
Catto said the firm intends to continue to market itself in ways not expected in the B2B sector because it wants to bring to life what its technology means for travel sector clients and their customers.
"We have some big technology changes coming up around the evolution of the Travelport+ platform. In some ways it's quite an easy story to tell. It's bringing that platform to life in a way that's relevant to the industry and to consumers.
"But something you would not expect B2B companies to talk about is the traveller. Travel is the most fun thing in the world but you do not see many B2B companies in travel harnessing the joy of travel. This is about using tech to make travel better, faster and simpler.
"There's a lot you can say about the platform and it can sound like hyperbole, but we are going to put ourselves to the test and open that up to the market. We do think about our customers' customers, both in product and marketing.
"It's important to understand our customers' customers - getting into the mind of the traveller is really important. We want the customers who are supporting our clients to understand they are working with the best tech in the marketplace."
Catto is keeping details of the ongoing partnership with McDonald under wraps for now suffice to say: "It will move us past the last three years to harness the joy of travel and really put our platform through a rigorous test."
Catto joined Travelport in September 2020, in the middle of the pandemic. Her early career was in travel with Site59.com, which Travelocity acquired, but she then went on to work in publishing, TV and media. She said the Travelport rebranding had to tell the story of how the firm had changed.
"I can honestly say it's the first time in my career that the brand was catching up with the product. The market already knew that the company was changing so when we rebranded it felt like an organic next step.
"It was either go big or go home, and it all came together with our customers. We got a lot of positive feedback from them saying we now looked like the company they had been working with for the past year.
"Over the years Travelport has changed and our long-term employees said are we really rebranding, we've rebranded before. I said we did not really re-brand, we went from light teal to dark teal. What we needed was our external representation to match what we were doing internally."
Catto believes that now is the time when travel needs to catch up with the internet in terms of the way it retails product and engages customers, and that Travelport is a company that is positioned to do that.
"It has a huge sense of urgency to reinvent the sector it is in. It's rare to find a company that's been around for decades that really want to do that, that thinks like a start-up. I do think Travelport will deliver on that.
"Everyone has talked about it, but no one has really done it – there has to be this convergence of travel and internet retail. We have spent the last two years online, a generation is digitised now. This is something we have to solve for now, not the future.
"It's definitely a shift in thinking, it's a mindset. It takes gamechangers like Greg (Webb, Travelport chief executive) to say this is what we are going to do and to really plant a stake in the ground."
Catto said in adtech firms have been much faster than travel at adopting data integrations to personalise the customer experience and that the travel sector must start thinking that way.
"Streaming TV is an example of a new model for an old industry. The TV industry was really slow to change but the digitisation of TV is really interesting.
"Look at the recommendation engines of Netflix or Amazon personalisation model in retail. It's a smarter store-front, and that's what we're building for travel. As a consumer you don't want to have to sort through everything, you want things that are relevant to you. Consumers expect that now.
"I expect the machine to know what I want. There's a huge opportunity for travel to create a better customer experience and B2B companies probably have a bigger role to play in that.
"I work in B2B but I'm also a consumer. I don't think of myself as a B2B person. I want to work in systems that feel like Apple, that are intuitive, and seamless, like the rest of my life.
"I don't think travel is that much different from publishing. Publishers don't want to share data with each other just like travel firms don't. But industries are realising that they are more powerful when they do, especially against the likes of Google.
"Google shows you why this must be done, because they are going to hold all the data for themselves. Why not create a more open-source environment? We have to keep moving that conversation. Sharing works in other sectors, so how can it work in travel?"
One key aspect in which travel differs from adtech is in the complexity of the technology, something that often revolves around the sort of universal standards that underpins internet retail and gives consumers confidence.
However, a lack of pricing and fee transparency in travel risks eroding trust particularly post COVID, believes Catto. "The pandemic has been a bit of a re-set or a tipping point for the industry. There has to be more transparency around exchanges and returns.
"Lets hope we live in a world where there will be more flexibility around exchanges and refunds and that is part of a better user experience. Consumers have spent the last two years becoming much more digitally active so their expectations have changed. The industry has had to adapt."