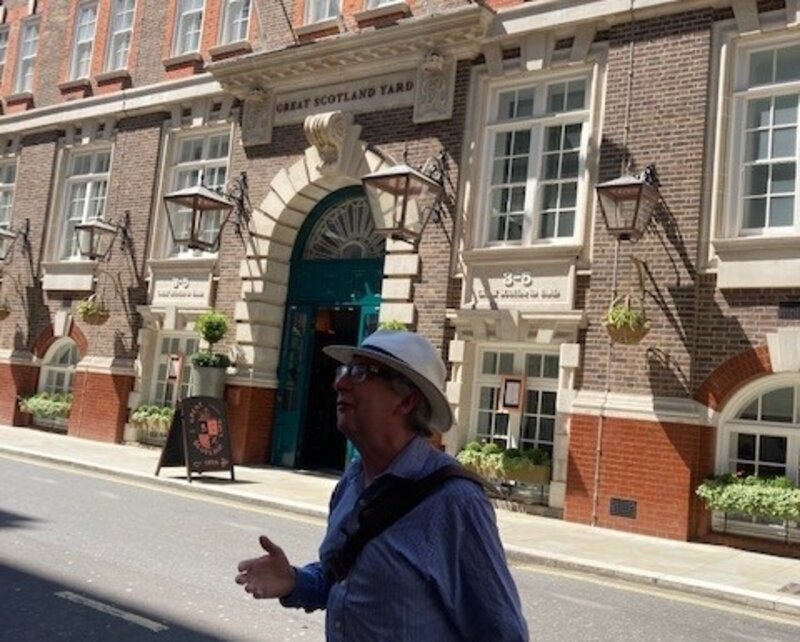 Big Interview: Travel Curious revving up for return to pre-pandemic levels
Boss of private tours provider says it has built the engines to drive forward the experiential travel market
Travel Curious, the B2B private tours marketplace and digital services provider, expects to see booking levels return to 2019 levels by 2023 as demand for experiences takes off.
Speaking to Travolution at the launch of its latest Scotland Yard Hotel themed tour this week Amir Azulay, co-founder and chief executive, said the firm is emerging rapidly from the pandemic.
He said, based on just 7% capacity due to many partners not being able to sell, the company is scaling at 60% month-on-month and transacting around £2,000 worth of tours per day.
COVID-19 prompted Travel Curious to focus more on domestic tours and virtual experiences, which Azulay said had helped it to cope with the impact of the pandemic on international travel.
During the period of the pandemic, Travel Curious has gone from just four trade partners to over 70, including a major deal agreed with the Marriott as the pandemic hit.
Azulay said: "The world is moving, and has been moving for a while now, from industries that provide services to industries that provide experiences.
"Just think about walking into an Apple store where you pay so much money for one of their products, essentially for the experience of opening up that box.
"When we were looking at travel and what sectors were growing, tours and activities was the fastest growing segment and most of the investment is going into marketplaces.
"In the travel industry, when it goes through a period of digital transformation, the money usually goes to marketplaces.
"What was neglected was the B2B space, the enablers, the traditional travel companies, the hotel companies who want to participate in this space but need a trusted provider.
"So, we decided to provide a technology platform as a service to traditional travel and hospitality companies."
Travel Curious created a marketplace for bespoke, private tours which it curates, like the Scotland Yard Hotel walking tour which debuted this week based on the area around the historic property.
It then developed digital services on top of that marketplace through an API to enable distribution through an agent portal and booking widgets that can be added to partner websites.
The firm claims to be the only one of its kind doing this, and Azulay says in doing so it is helping its partners to embrace the digital age and dispense with old fashioned, clunky processes.
"How many travel agents are sitting at home now wanting to sell something to their customer base, to re-engage their customer base?" he said.
"That's why we went into domestic tours, staycation tours and virtual tours. Agents have been getting into that in a big way."
Azulay believes virtual tours will continue to be popular post-pandemic with agents using them to experience destinations they have not physically visited.
And he expects travel concierge services to use them to offer personal, trusted advice to clients booking high-end trips.
"The tours and activities sector is massive, and the fact that we have turned it into a service to travel and hospitality companies means we have opened up a completely untapped market.
"We see twelve percent of the opportunity is the marketplace, but 88% of the opportunity is in the distribution of our unique experiences through our partners."
Travel Curious expects to see growing demand for themed experiences based on topics like the history or contemporary culture of a location.
Globally, the market is valued at $254 billion annually, and around 50% of tours are booked ahead of travel, the other half when clients are in-trip.
The average booking value for a Travel Curious tour is £282 and the average size of the group is 4.8, although that has been skewed upwards by virtual tours.
Then firm currently has 1,100 guides on its database all of whom are interviewed, properly licenced and vetted and who work with Travel Curious and its partners to create bespoke experiences.
Azulay said before the pandemic hit the company was "growing like crazy" with the Marriott deal, covering 30 cities and 600 properties, about to go live.
He said the impact of COVID-19 brought that to a halt, but he believes that Travel Curious would not have brought as many new partners onboard had it not happened.
The firm now works with many of the world's largest tour operators, travel agents, bed banks and hotel companies including European giants Hotelbeds, Lonely Planet and Tui.
The start-up has also unveiled new branding, named a chairman and issued a new commitment to Corporate Social Responsibility (CSR) as it prepares for a Series A funding round.
Azulay said: "There's huge potential because if you take all of our partners and product and mesh them we are selling at 7% capacity because most partners have not stared selling.
"We are expecting to see 30% of 2019 levels this year because we are selling a lot of domestic and seeing a lot of bookings for 2022.
"I believe 2022 will be 50% to 70% of 2019 and we should get back to 2019 levels in 2023. From a technology point of view the logistics engine and distribution engine is built.
"Right now logistically it's a challenge matching source markets with destinations and who can travel where, but the engines are built and the content is the least of our challenges."