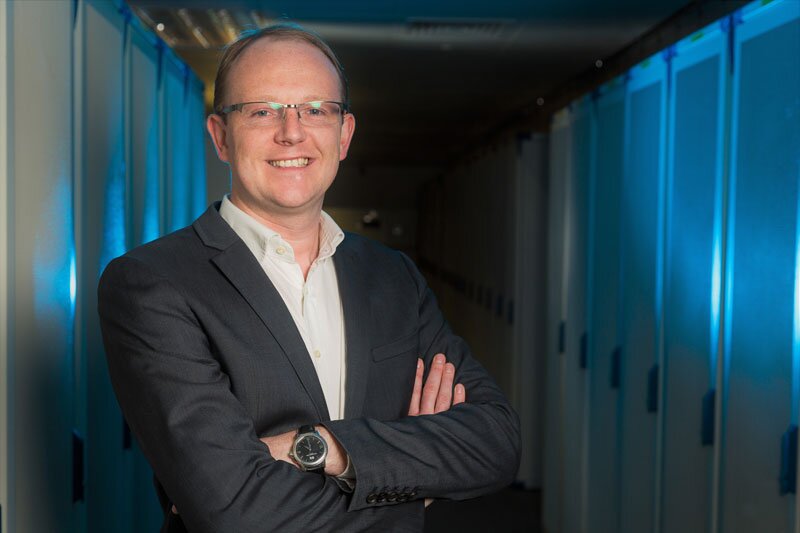 Big Interview: Travel Counsellors puts it foot on the accelerator under new tech chief
Jon Bauer has brought two decades of experience in the telecoms sector to the travel sector
New Travel Counsellors chief technology officer Jon Bauer spoke to Lee Hayhurst about using the COVID-19 crisis as an opportunity to accelerate tech development and deliver on a Netflix-style customer experience 
Five years ago new Travel Counsellors chief technology officer Jon Bauer swapped a 20-year career in telecoms IT to make a difference in sectors behind the technological curve.
Having spent some time in the energy and financial services, his journey brought him to travel last November when he joined the homeworking agency initially on an interim basis.
Now full time, Bauer is setting about transforming how technology in the business can be used to enhance Travel Counsellors' personal people-based approach to travel.
So what's his early assessment of the general state of technology in travel? "In some parts of the booking experience it's quite automated and quite slick," he says.
"But if you look at back office systems and how businesses work with each other, data transfer and interactions it's nowhere near as evolved as you would think it is.
"There's lots of emails, lots of pdfs, lots of paper, but we live in a digital age and information exchange is quite simple to achieve with the right systems.
"Some of the journeys and the way we navigate the assets within the travel sector is not as intuitive as it possibly could be."
For Bauer, this failure in the travel sector back office translates into a lack of flexibility and a sub-optimal experience for the end consumer.
Adapting to a new era for homeworking
Starting a new role in the middle of the COVID-19 pandemic has been challenging, but if any travel company can vouch for working from home it is surely Travel Counsellors.
Bauer has yet to set foot in the firm's headquarters on the outskirts of Manchester or meet any of his colleagues, but that has not prevented immediate progress being made.
"I have only actually met one other person in Travel Counsellors and that was the person who gave me my laptop," he says.
"My entire interaction has been via a two-dimensional 14-inch screen. That said, I have been in tech for some time, so I'm used to video conferencing.
"We have had our challenges, for the business to be 100% distributed and home working – how do we communicate with staff, how do we have organised fun?
"Innovation is difficult. Sometimes you just need a whiteboard or play with some Post-Its. Yes, you can do that online but it's not the same.
"We definitely need to get back in the office, but I think we'll end up with something in the middle. I don't think society will go back 100% to being office based.
"Employees and colleagues will expect a level of flexibility. Business has moved on. It's great for us, given our model, but it does mean increased competition in the sector."
Bauer adds: "COVID has turned everything upside down, not just in business but in society and people's personal experiences.
"It's forced Travel Counsellors to take a long hard look at itself in terms of its cost base and the way it works and it realised it was not as digitally advanced as it could be.
"When we look at the model, the way we work with our franchisees and the wider platform there is definitely different efficiencies that can be gained.
"I was brought in to transform the organisation and to build it out for improved customer and colleague experience and how we deliver that 'wow' Travel Counsellors' experience."
Tackling back-office fragmentation
Unlike pure-play B2C firms, Travel Counsellors' key customer is the home-based agent franchisee who it supports to take full ownership of the relationship with the end customer.
As a tour operator in its own right, it also has supplier relationships to manage and a head office client that acts as a conduit between them and its sales force.
The first project Bauer implemented was to take fragmentation out of the way head office interacts with agents by bringing in a new third-party service management system.
This was rolled out to 200 agents before Christmas as part of a pilot scheme and work to roll it out across the rest of the company has progressed this year.
The intention is to automate where it makes sense to drive up efficiencies but also make sure agents have all the information they need whenever they need it.
Bauer describes it as providing a "single front door" to the business, and one that is intelligent enough to learn from how it is being used to improve the service it offers.
"What was clear we were interacting with our travel counsellors via email, via chat, via Skype and it was quite a fragmented experience.
"With the new platform we have systems that allow counsellors to be supported when they want and how they want, which provides them with information at their fingertips."
As a result, the new technology is enabling Travel Counsellors to target improving certain Service Level Agreement metrics like phone waiting times and availability, said Bauer.
"We have really interesting insights and data on what our counsellors need to do their duties," he adds.
"And we are seeing usage of the platform significantly increase and this is allowing our travel counsellors to be more self-sufficient."
Bauer said Travel Counsellors' IT strategy is to build in-house and innovate where it adds value and use third party providers for everything else.
"Building our solution and our platform out is part of our strategy, but what we should not be doing is building commoditised services.
"We will not be building a chat platform or a robotics platform when there are much better platforms available and much more affordable.
"Where we do add value is where we differentiate ourselves like in our booking journey, which is unique to us, and the way we allow consumers to browse our content."
A tech platform that encourages peer-to-peer support
Another important aspect to the Travel Counsellors' model is the sense of community between agents who, although technically competitors, have created support groups.
This has come to the fore particularly as they face the challenges of the pandemic together. "We have started to enable the platform to encourage that community feel," says Bauer
"And we've seen some good early traction, starting to see peer-to-peer support. It's that true online community coming together in a common purpose.
"They are willing to support each other, helping with business generation, sales and marketing, social promotion and ideas for destination marketing."
In powering Travel Counsellor's IT future development, artificial intelligence will play an increasing role and after Christmas the firm deployed its first 'digital worker'.
Unlike her human colleagues, this new back office bot works tirelessly 24/7 and never calls in sick but she's been given a human persona and named Caroline.
Her job is to automate some of the manual processes like debt and balance management in areas of the business where human-to-human interaction was common but not necessary.
Although Bauer concedes in the current climate it is vital for firms to keep costs down while the sector awaits a rebound, that is not the overriding objective.
"We expect the market to recover later this year and early next," he says. "It's more reflective of where the business needs to get to.
"It's about lots and lots of people doing things they should not have to do. It's less about headcount and more about freeing people to do the valuable jobs we want them to do."
One area in which Travel Counsellors has always sought to have a leading and unique place in the sector is in the recruitment and on-boarding of new agents.
Bauer believes it will quickly get back to pre-COVID levels in terms of welcoming new franchisees, but that thanks to streamlined processes it will be doing this with fewer staff.
The firm is also developing its customer-facing mobile app, adding features to make it a more intuitive portal through which agent serves customer pre- as well as post-booking.
Personalised Netflix vision for the future
Bauer's vision for how Travel Counsellors' engagement with customers will evolve is online streaming giant Netflix in terms of personalised recommendations and service.
"Our agents are travel enthusiasts, they may not be marketeers or sales gurus. Our success is dependent on them, so the core offering beyond the tech is centralised support.
"We are heavily incentivised to make each and every one of our agents successful. How can we help new agents but also seasoned counsellors to do more, expand to different markets?
"We have got this once in a lifetime opportunity where we can really push forward while the market is in a position which we hope it will never get back to again.
"We have got to use this moment in time to capitalise on this transformation journey.
"It's an acceleration; we are probably going through three years' worth of transformation in 12 months. COVID is concertinaing our approach.
"We are using new methodologies, consumer backwards thinking, agile approaches and product centricity which has the consumer at the heart of the business.
"We are now living these values and taking them into all of our operations. We pride ourselves on our human touch and support and invest in the success of each franchisee."