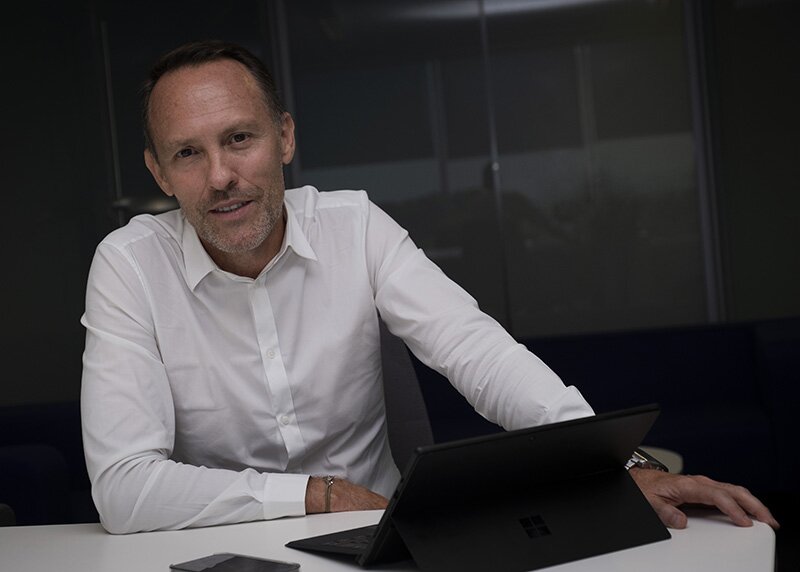 Big Interview: New Hotelbeds chief focuses on facilitating the travel recovery
Nicolas Huss spoke to Lee Hayhurst about the role the bedbank will play in the COVID rebound
Nicolas Huss spoke to Lee Hayhurst about his background in the payments sector and how the COVID pandemic has given the global bedbank a clearer vision of the role it needs to play in supporting recovery in a volatile market
Despite being key cog in the global travel ecosystem, present in 140 source markets and with 180,000 hotel supply partners, Hotelbeds is often challenged to explain its role.
It is comfortable being known as a bedbank because at its core that is what it is, offering scale in the aggregation and contracting of hotel product in a large and fragmented market.
For new chief Nicolas Huss the answer to that question is much more complex and, he says, COVID-19 has helped the Majorca-based firm understand its value proposition better.
He draws an analogy from the payments sector, where he had a successful career pre-Hotelbeds, in which disruptive fintech start-ups partnered with established players.
This allowed them to support new consumer-facing models, like Alipay in China, and to adapt solutions on a market-by-market basis but under agreed global standards.
"We are a B2B-only business. We are not here to compete, we are here to facilitate, to enable where possible. We see ourselves as facilitators, driving value through technology.
"When I think about payments, I think about how everything is automated, everything is done in a way that the consumer would never feel the friction.
"In-app payments solutions made Uber and Airbnb possible. So, think about the digital journey and trying to make it even easier and with fewer pain points and friction.
"Look at it not just from the perspective of the hotel but the flight, ground transport, ancillaries and services and build a concept from the beginning of the journey to the end."
COVID has introduced new pain points, like the plethora of different vaccination status requirements, highlighting how the travelling experience need to be improved, Huss said.
And while many players in the digital sphere are competing to make their own solutions the one consumers turn to, he believes collective action is the answer to doing this globally.
"I believe a lot in standards rather than trying to develop it yourself on your own solution which can be very helpful but possibly relatively narrow.
"When you think about the payments industry when it launched contactless we agreed there would be a token standard to make it possible to work around the globe.
"When I joined Hotelbeds, my predecessor Joan organised for me to chat with some of our biggest competitors globally.
"The discussions were very cordial and open and I could see that we collaborate together in many things. And there's clearly a willingness to do more things together.
"What was missing was the idea that there may be interests in common and you might lose some competitive advantage but from a deployment perspective it makes it much easier."
Hotelbeds was established in 2001 by tour operator First Choice and became a standalone company in 2016 after a €1.2bn private equity buyout following the Tui Group merger.
It has since expanded into non-hotel product with its Beyond the Bed range of ancillaries, tickets and activities and the acquisition of Holiday Taxis.
And it has driven considerable consolidation in a bedbank sector high on competition but low on margins by snapping up and integrating rival Tourico and GTA brands.
Huss said Hotelbeds retains an appetite for acquisition in its DNA if opportunities arise that make sense, but he adds:
"Personally, I'm a fanatic of organic growth. I strongly believe that CEOs generally when they get more established tend to forget that this is a key differential.
"I'm obsessed by growing faster than the market, not globally but in every single region and segment. This is one of the things I have a proven track record on over the years.
"The question is how can we do it do it, how can we do it faster and can we do it better than the competition. If there is a key missing factor the question is should we buy or build."
It is Hotelbeds' vast global reach that gives it a unique perspective on the sort of innovation that may be needed region by region.
And Huss said the firm wants to be the natural supply partner of choice for emerging disruptive models exploiting the "open door" of technologies like Artificial Intelligence.
"What I liked when I joined the company was I thought the team had taken advantage of the COVID period to understand what was needed from an innovation point of view.
"Coming from the payments sector I thought a company like Hotelbeds would not be as innovative as payment companies in developing digital capabilities and automation.
"But I like the approach to innovation here. That has really impressed me. For us, digitalisation and innovation are core areas of focus and investment."
Huss says the pandemic has introduced a volatility to the market that positions Hotelbeds as an important partner with suppliers and retailers as they work out what the trends are.
Changing consumer behaviours, such as a shift to leisure and domestic travel and lastminute bookings, and the blending of travel for work and leisure, are likely to be here to stay.
This means Hotelbeds' partners are looking for the data and insights to allow them to be more responsive to rapidly changing demand patterns and increasing competition.
Huss says: "What's struck me is the market is becoming increasingly competitive. In some areas it's fragmenting, in others consolidating quickly in key markets and regions.
"It's also very volatile. It's difficult enough for us to have the long-term view about where we want to go, but today it's almost about week-to-week, in-month management.
"For us we have to translate that into what are the challenges from a company perspective, and it's about agility, responsiveness, anticipation, innovation and a focus on solutions.
"We have to constantly evolve our technology against the best in the industry and also look at it market to market to try to understand what we need to do to be better."
The collapse of mid-term bookings and polarisation to long lead-in and lastminute means hoteliers are having to be more nimble if they are to make sure they are filling beds.
Huss said this requires more flexibility from hoteliers and while Hotelbeds traditionally focussed on driving value in peak travel times it now must take a more granular approach.
"This gives us an interesting way to position ourselves with our hotel partners. On some days of the week they will be fully booked, but on others they will need our help.
"If you have a lot more lastminute bookings that requires changes in terms of flexibility and you need to be able to support that."
COVID's left a deep scar on the travel sector that will take time to heal, but under Huss Hotelbeds is positioning itself to be a global facilitator of the recovery for its partners.
"My first move when I joined was to increase our technology budget to make sure that we start now to not only do what we need to do but have a focus on innovation.
"What's clear to all of us is that being global is definitely one of our competitive advantages.
"We want to understand what's happening everywhere, in places like Asia versus the Middle East, to get a good sense of what could happen globally and regionally in the future."