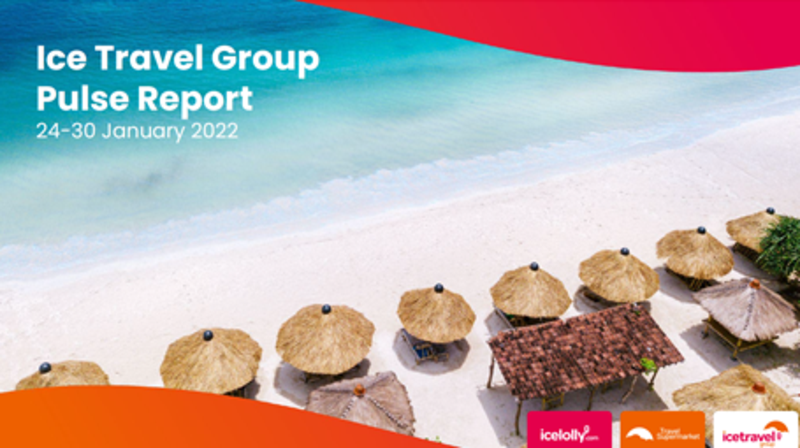 Ice Travel Group Pulse: Demand high for spring getaways
Latest weekly trends from icelolly.com and TravelSupermarket parent to January 30
Demand for travel this spring is outstripping summer 2022 according to the latest Pulse report from icelolly.com and TravelSupermarket parent Ice Travel Group.
Icelolly.com data for the week to last Friday (January 30) shows both February and March ahead of August and September in the most searched for departure months.
May tops the table, with July and June in third and fourth respectively, revealing strong interest ahead of the traditional school break-up period at the end of July.
On TravelSupermarket, March and February were the two most popular months followed by  April and May.
The peak summer month of August was in seventh and eighth places on icelolly.com and TravelSupermarket respectively.
In terms of popular destinations, on icelolly.com the Algarve was the big share gainer among those most-searched with an 18.5% increase in share.
Outside of the top 10 Krakow in Poland had a notable increase in search share of 82%.
There were notable share gains on TravelSupermarket for Santorini and Krakow, while Majorca also saw a significant increase.
The latest Pulse covers up the weekend when leading brands like On The Beach and Tui were predicting a spike in bookings after the year's first pay day.
Chris Webber, head of holidays and deals for Ice Travel Group, said: "Searches and bookings remained strong as payday weekend hit and people committed to getting a long-awaited getaway in the calendar.
"A wider range of both short- and long-haul destinations were booked across icelolly.com and TravelSupermarket, with the likes of San Francisco, Essaouira, Lefkada and Lake Como joining more mainstream options.
"The portion of summer 2022 bookings increased on both icelolly.com and TravelSupermarket, too, with beach destinations Majorca, Antalya and the Canary Islands proving popular choices for summer breaks."