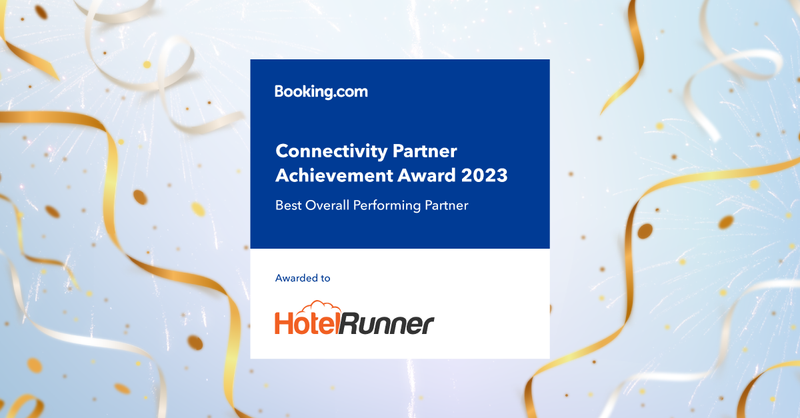 HotelRunner crowned Booking.com's best overall performing partner
The travel and hospitality technologies platform beat nearly 600 partners to the top spot
HotelRunner has been named as a winner of the Booking.com 2023 Connectivity Partner Achievement Awards.
Booking.com celebrates the work and achievements of its top-performing partners at its annual awards.
This year HotelRunner scooped the Best Overall Performing Partner award, for its "outstanding performance" paired with their "commitment to providing the best service for their properties" which has set them apart from almost 600 partners.
The company was named Top Connectivity Performer for 2018 and Premier Connectivity Partner for nine years in a row by Booking.com.
Having secured the title for the second time "reinforces HotelRunner's expertise and dominance in the industry".
"Our team is overjoyed and immensely proud to receive the award," said Rıza Kaynak, director of demand of HotelRunner.
"This recognition is proof of the hard work, determination, and innovative spirit of every individual at HotelRunner and our collaboration with the Booking.com team.
"We are delighted to celebrate this milestone achievement, knowing that it positions us as an undisputed leader in the industry.
"We value our strategic partnership with Booking.com greatly, which has been going strong for nearly ten years now and can't wait to celebrate many more years of success."
Eddie Veldhuizen, senior director connectivity partnerships of Booking.com: "The outstanding performance of HotelRunner has earned them the title of 'Best Overall Performing Partner.
"At Booking.com we appreciate efforts and dedication. HotelRunner's hard work and commitment to providing the best service for their properties have set them apart from our almost 600 partners.
"HotelRunner's exceptional performance has been instrumental in our mutual success. Together, let us continue to strive for excellence in the year ahead."
The award recognises the company's current achievements but also "serves as a powerful indicator of the bright future that lies ahead".