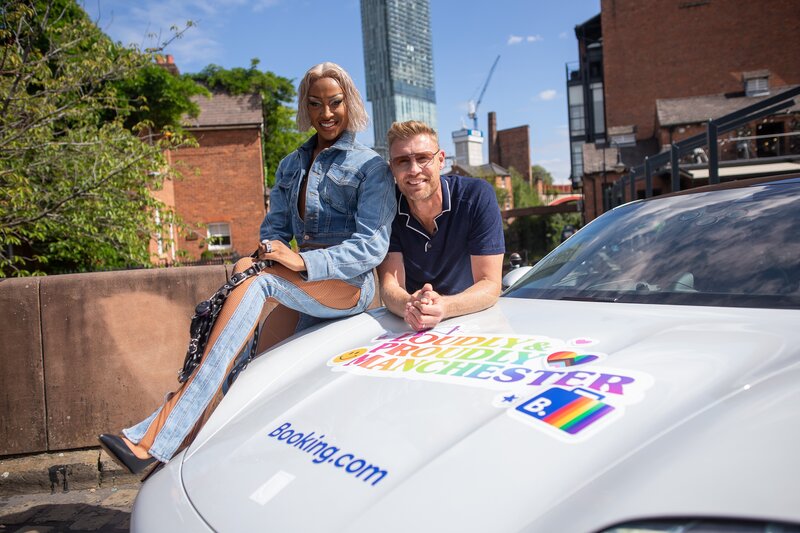 Freddie Flintoff and Drag Race UK's Tayce team up to support Booking.com Travel Proud
An impromptu carpool event was organised to promote greater inclusivity and diversity in the travel sector
English cricketing star and broadcaster Freddie Flintoff and Drag Race UK's Tayce teamed up to support Booking.com's Travel Proud programme.
The OTA's initiative has set out to make travel a more welcoming and inclusive experience for members of the LGBTQ+ community.
Flintoff and Tayce were filmed in surprise carpool event organised by Booking.com which launched Travel Proud to educate its hotel partners on the sector.
To date, more than 10,000 properties internationally have completed the training and have been recognised with a Travel Proud badge on as a symbol of their commitment to inclusive hospitality.
As part of the programme, Booking.com says it is "working closely with its partners, employees and suppliers to connect with LGBTQ+ travellers, and is actively looking for ways to reduce barriers for the community both on and off its platform".
Initiatives include providing hospitality professionals with the confidence and tools to use the right language in every interaction with their guests, as well as ensuring the brand is using more inclusive language and options on the Booking.com platform itself.
Matthias Schmid, vice president of Booking.com's Trips Division, said: "Our mission is to make it easier for everyone to experience the world and addressing the needs of LGBTQ+ travellers is an essential part of delivering on this."
Freddie Flintoff said: "It's been a real eye-opener to work with Booking.com and learn about the restrictions felt by the LBGTQ community when it comes to feeling safe when going on holiday. I've been lucky enough to travel the world and enjoy doing so, with no worries or unwelcoming experiences.
"On a lighter note, spending the day with Tayce was great fun… it's not often that you get to hang out with a Ru Paul's drag queen."
Tayce said: "It's great to see brands like Booking.com championing the LGBTQ+ community by providing safe travel. I know first-hand what it's like to be made to feel unwelcome on holiday, purely because of personal choices and sexuality. Ultimately, we need to raise more awareness of this so that the issue is confronted.
"I encourage everyone to always be nothing but loud and proud of who they are and their authentic self - always."