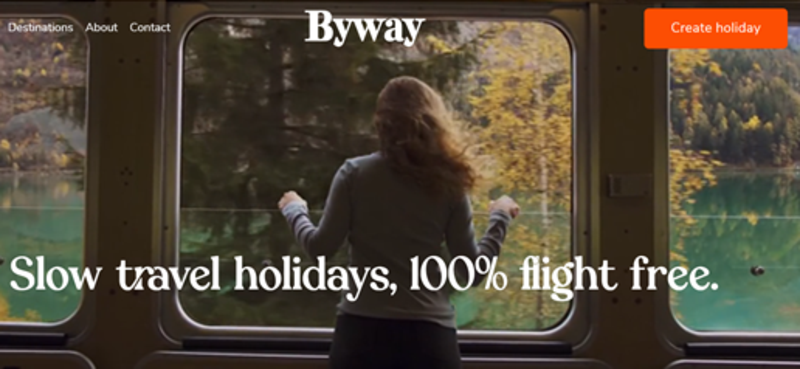 Byway partners with the LNER and VisitScotland to for flight-free holidays
The eco-friendly OTA start-up has developed trip building technology for holidays by train, bus, bike, and ferry
by Aidan Poole
Flight-free holiday platform Byway has expanded travel offerings to include the Cairngorms and east of Scotland in a tie-up with the London North Eastern Railway and VisitScotland.
Byway expanded its slow travel options so holidaymakers can experience the scenery and landscapes of Scotland with personalised holidays using eco-friendly transportation such as train, bus, bike, and ferry.
The UK-based brand already offers holidays around Great Britain and Europe, and the addition of the Cairngorms and eastern Scotland brings experiences including scenic countryside tours, mountain biking, skiing, and local food and drink tastings to the table.
Byway's trip building technology will create a unique itinerary based on travellers' specific interests and availability, combined with activities and places highlighted by travel experts at Byway, LNER, and VisitScotland.
Cat Jones, founder and chief executive of Byway, said: "Slow travel is not just about avoiding flying - it's about the joyful experience of journeying through and savouring small moments.
"If you've ever taken the train out of Edinburgh you'll know how quickly the landscape turns from city into stunning wilderness.
"We're thrilled to have partnered with VisitScotland and LNER to help people discover what's to love about the superb rail journeys in this part of the world and the wonderful things to do and see in Scotland away from the crowds."
Malcolm Roughead, chief executive of VisitScotland, said: "Scotland is a year-round destination. Every season, every region offers something different.
"There is so much to explore and discover but only by slowing down can you fully immerse yourself in our stunning scenery, landscapes, heritage and culture.
"We're pleased to be working with Byway to help visitors see more of our amazing country and enjoy some off the beaten track experiences in a sustainable way.
"By taking your time you can consider the impact of your trip, make more sustainable choices, reducing your environmental impact and contributing to the quality of life of Scotland's precious communities."
Kate McFerran, director of communications at LNER, said: "The Scottish Highlands are famous throughout the world for their striking natural beauty, and what better way to travel there in comfort and style than on our world-famous Highland Chieftain service.
"Enjoy one of the most scenic train journeys in the UK between London King's Cross, Yorkshire, the North East of England and Inverness on our environmentally-friendly Azuma trains.
"We are excited to work with Byway to make it even easier for anyone to enjoy this beautiful part of the world without the stress of flying or driving."