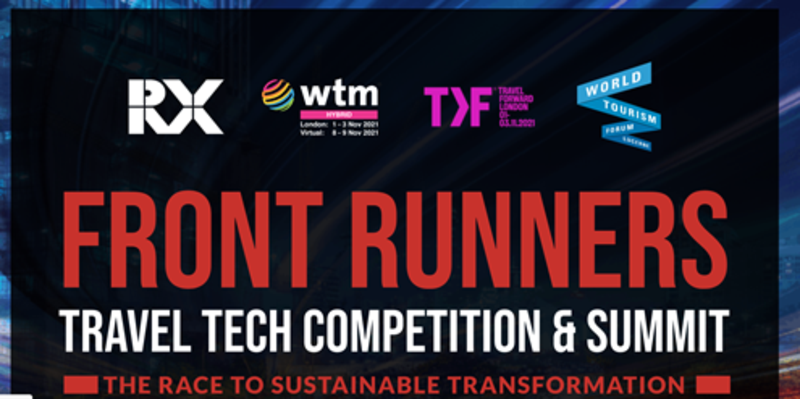 WTM Travel Forward reveals its nine Front Runners Travel Tech finalists
Revolutionary tech-driven start-ups have all championed sustainable practices in travel
The finalists of the WTM Travel Forward and World Tourism Forum Lucerne Front Runners Travel Tech competition have been announced.
Nine finalists are all tech-driven start-ups with missions to revolutionise the industry and champion sustainable practices.
They will be flown out for free to London for the final at WTM next month to present their innovation to a global audience.
On November 2 finalists will pitch to an international judging panel and exclusive audience of investors, industry leaders and innovators during the Front Runners Travel Tech Summit at 2pm to 6pm.
The tech competition attracted interest from 450 start-ups from more than 80 countries.
Eligible applicants had to complete a three-stage evaluation process. Judges chose ten start-ups to move forward and then chose three finalists in each category.
Finalists for the Hospitality of the Future category are:
Hotelmize, a UK-based fintech-travel start-up that offers revenue-boosting cutting-edge technology products to the travel industry;
Pruvo, an Israeli AI-driven solution that helps travel companies increase profitability by leveraging price fluctuation that occurs in the hotel industry;
And Singapore-based Stayr, a real-time booking platform that allows consumers to book spaces by the hour.
The Experiences Revolution finalists are:
Greece based-company, Clio Muse Tours, a storytelling app that enables accredited professionals from culture and tourism to create and distribute self-guided audiotours through a global network of online travel agencies and museums;
Community Homestay Network, which creates job opportunities and improves livelihoods and offers authentic local experiences in Nepal;
And sustainable tourism company, Natoure, based in Mexico with a mission of "Healing nature while traveling".
Finalists for In the Smart Mobility category are:
MOTIONTAG, from Germany, a mobility analytics company focusing on solving the climate challenge by providing green incentive programs and granular mobility insight for smart cities;
Swiss sustainable mobility solution, ShareP , that works to solve the problem of parking and EV charging within existing parking infrastructure;
Thrust Carbon, a UK company that reports, reduces, and removes travel emissions through their multi award-winning carbon intelligence platform.
Daphne Tsevreni, co-founder and chief financial officer atClio Muse Tours, said: "It's such a privilege to have been announced a finalist in the Front Runners Travel Tech Competition.
"It's a great opportunity to connect with even more travel companies and investors interested in travel tech from all around the world and showcase how self-guided tours are a great asset for any kind of tourism company."
Fabien Sauthier, chief operating officerand managing director at MOTIONTAG, added:
"MOTIONTAG is proud to be part of the Front Runners Summit, as this is a recognition that our work around sustainability is highly relevant in the travel industry.
"We cannot wait to be in WTM London to network and build partnerships with key decision-makers at this global event."
Dor Krubiner, chief executive officer atHotelmize, said: "We are honoured to have been chosen among the top travel tech start-ups by Travel Forward at WTM London out of 300 applications sent from 80 countries.
"Stay tuned as we will be presenting our innovative Fintech-based technologies which will empower our partners and travel companies globally through the coming years."
The judging panel consists of Evantia Giumba, director at Amadeus Launchpad, EMEA; Alex Cruz, former British Airways and Vueling chairman and chief executive officer and now a senior tourism specialist; Aradhana Khowala, chief executive officerand founder of Aptamind Partners;Liz Ortiguera, chief executive officer of PATA and Elena Cholakova, head of innovation projects at WTFL.
Simon Press, event director at WTM London and Travel Forward, said: "The response has been phenomenal, with applications coming from all corners of the globe and we are looking forward to hearing the presentations by representatives of these nine fabulous, forward-thinking start-ups."
Martin Barth, president and chief executive officer at WTFL, added: "Front Runners Travel Tech Competition & Summit 2021 is our bold response to fostering innovation and supporting the start-up community in these challenging times.
"The Front Runners finalists are high potential start-ups who we would like to support to become profound catalysts for change, unlocking new innovations and providing much needed sustainable solutions and inspiration to the industry."
WTM London and Travel Forward will take place from November 1-3 at the Excel exhibition centre in London and will be followed by a Virtual event on November 8-9.