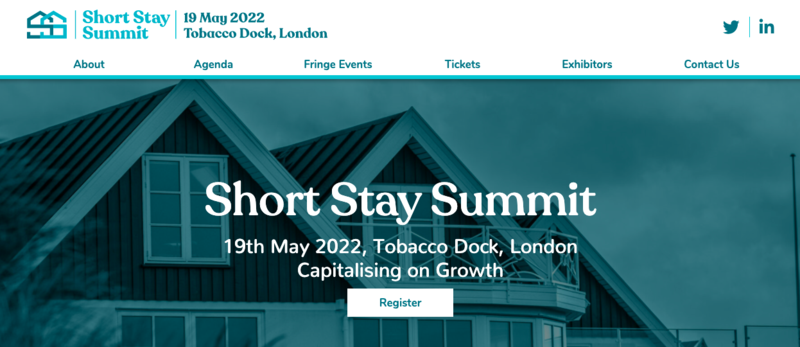 UK tourism minister Nigel Huddleston to give keynote at Short Stay Summit 2022
Former Google head of travel Nigel Huddleston will speak about importance of sector to UK economy
by Kaia Hicks
UK Tourism Minister and former Google head of travel Nigel Huddleston has been confirmed as a keynote speaker at May's Short Stay Summit.
The European conference for the short-term and holiday rentals industry is due to return to Tobacco Dock in London on Thursday May 19.
The event is a collaboration between the three largest bodies that represent the industry in Europe, the UK and the US – the European Holiday Home Association (EHHA), the UK Short Term Accommodation Association (STAA) and the Vacation Rental Management Association (VRMA) respectively.
It provides a platform for operators to develop partnerships and ideas on how to continue to grow the industry in a sustainable way.
Huddleston will speak about the importance of the tourism sector to the UK economy, the government's plans for tourism recovery post-COVID, and the role that the sharing economy can play in that recovery.
He said: "I'm delighted to be the keynote speaker at this year's Short Stay Summit.
"I know it's been a challenging period for our world-class tourism sector and I look forward to speaking to people in the industry and understanding how we can continue to support their great work."
Sponsors of the event include headliner Expedia brand Vrbo and Booking.com and Host & Stay.
It is also being supported by Styled Interior Design, Sykes Holiday Cottages, Beyond, CoStays, Awaze, Hospiria and UnderTheDoormat, PriceLabs and Guesty.
On the evening prior to the Summit, the annual Shortyz Awards, organised by ShortTermRentalz, will take place.
Merilee Karr, chairwoman of the STAA and chief executive of UnderTheDoormat, said: "The Short Stay Summit held in September proved to be a roaring success.
"Despite the threat of COVID-19, we had a very impressive attendance including many of our industry friends from across Europe and the US.
"What the event proved was that we are a very vibrant, go-ahead and vocal sector that is full of dynamic individuals who want to develop businesses that will provide customers and guests with top quality travel and accommodation experiences.
"It was so rewarding to be a part of something that you could visibly see benefiting all who attended.
"We are looking forward to reconvening in May with even more delegates to further develop our thoughts and ideas on how to shape the future for our industry."
Viktorija Molnar, interim secretary-general of EHHA, said: "EHHA is thrilled to co-organise the Short Stay Summit with the STAA and VRMA again.
"We are convinced that the Short Stay Summit provides an opportunity which the short-term rental industry players do not want to miss!
"It gives delegates the opportunity to immerse themselves in a number of exciting and new discussions, share their experiences and knowledge, build bigger networks and be a part of the short-term rental industry.
"We are looking forward to seeing everyone again this year in London."
Kimberly Miles, executive director of the VRMA, added: "We are pleased to partner with STAA and EHHA once again on this important event.
"The Short Stay Summit provides a meaningful experience for delegates to convene, exchange ideas and collaborate to shape the future of the vacation and holiday rental experience.
"We are excited to see many new and familiar faces in London as we mark another important milestone on the road to recovery for business, travel and tourism."